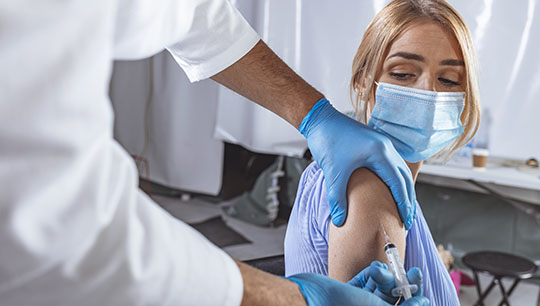 They have been hailed as a game changer for the cruise industry, so could approved Covid-19 vaccines become mandatory for travel and visa requirements, and could non-compliance be a barrier to employment? Helen Kelly considers the future of biosecurity in a post-Covid world
In December a British grandmother became the first person in the world to be given the Pfizer Covid-19 jab as part of a mass vaccination programme. The historic moment, hailed as the beginning of the end to the global health crisis, has since led to questions over availability and who should be prioritised for the jab, and whether governments and private industry might mandate immunisation for access to benefits and services, and ultimately require vaccination for travel and employment purposes.
Many countries already insist on proof of vaccinations for diseases such as yellow fever or polio in the form of an International Certificate of Vaccination or Prophylaxis (ICVP) before entering their borders.
Some countries require citizens to be vaccinated for other non-Covid diseases in order to access government services. For example, Australia's Prime Minister Scott Morrison introduced a 'no jab no pay' policy in 2015 that requires children to be immunised for their parents to be eligible for family tax benefit payments and the federal childcare subsidy, according to LSJ. The move was enabled under Australia's Biosecurity Act 2015, which also provides emergency powers to government in the Covid-19 pandemic – including a cruise line ban until April 2021, to be reviewed shortly.
Pre-pandemic Australia's state government of Victoria passed legislation to compel healthcare workers to be vaccinated, with Covid expected to be added to the list of vaccines required for professionals working with vulnerable people.
Trent Hancock, employment lawyer and principal of Jewell Hancock Employment Lawyers, told LSJ that it would be reasonable under Australia's Biosecurity Act to require employees to be vaccinated to ensure the safety for all workers. 'Employers have an obligation to provide a safe working environment, and employees have an obligation to assist their employer to provide that safe working environment.
Alan Joyce, chief executive of Qantas Airways, an Australian airline, told Bloomberg News in November that proof of Covid-19 vaccination would be a condition for travellers entering or leaving Australia on the carrier's planes.
To date, no country has made Covid-19 inoculation compulsory or said it would be required for people crossing borders.
However, on 4 January Israel's coronavirus commissioner, Professor Nachman Ash, demonstrated the proposed design for a 'green passport' app that will allow people who have received the vaccine to travel abroad without having to quarantine and give access to cultural and sports events, the Jerusalem Post reported.

An approved Covid-19 vaccination could become mandatory for Schengen Visa applications in the European Union, SchengenVisaInfo reported in April 2020. An unnamed EU official confirmed that once vaccines were approved, and available for all, visa applicants would also be required to be vaccinated in the future.
The EU is expected to debate the issue in mid-January after Greece pressed for an agreement. Cyprus, Denmark, and Hungary are all reported to be in favour.
Travel insurance providers have since indicated that, if the EU mandates vaccinations for entering its borders, they may refuse to cover people without it. AXA, a French multinational insurance firm headquartered in Paris, said it would refuse coverage to those who have not taken the vaccine, if the EU Member States make it obligatory for travellers.
A coalition of global technology firms, including Microsoft and Oracle. are reportedly working on a digital Covid 'vaccination passport', which they reckon can help people return to travel, work and education, the Financial Times reported on January 15.
The return of cruise?
For cruise operators, which have been some of the worst-hit in the maritime industry by the pandemic, Covid-19 vaccinations inspire confidence in customers and regulators alike and signal the possibility of a return to business as usual in 2021.
The US Centers for Disease Control and Prevention (CDC) said vaccines could help mitigate the spread of Covid-19 on cruise ships, which have been banned from sailing in US waters since March 2019.
Adam Goldstein, global chair of Cruise Lines International Association (CLIA), an industry lobby group, told USA Today that he believes vaccines, alongside preventative measures such as pre- and post-cruise testing, mask wearing and hand washing, will help as cruise lines look to head back to sea.
According to CLIA global cruise activity supports over 1.17 million jobs in a wide cross-section of industries and sectors, from ground and air transportation to food and beverage, lodging, manufacturing, hotels, professional services and a broad range of suppliers and service providers, with up to 2,500 jobs lost each day that cruises are not operating.
No cruise line has yet mandated inoculation for passengers.

Digital health 'passport'
In December, Singapore started piloting the use of so-called 'digital health passports' to verify travellers' coronavirus test results, Channel News Asia reports.
Digital health passports use blockchain technology to share data securely. Several technology firms have developed apps using the system and are working with the government, with funding by Temasek, a state-owned investment company, to trial their use for inbound travellers to Singapore.
Prospective travellers to Singapore take a Covid-19 test at an approved healthcare provider. The results are issued via a QR code, which travellers receive via an app and show to border force. Immigration officers can see details such as whether the test laboratory is on an approved list, what type of test was taken, and whether it was done within the required time frame.
Whilst the initial pilot is for Covid test results, verification of approved vaccinations would follow the same process on the digital health passports.
The technology could find significant uptake by employers and crew managers in the maritime industry, which must move seafarers across multiple borders in millions of crew changes every year, and saving hundreds of hours of administration time, according to Kristina Lynge from technology services provider Riverr.
Riverr's solution, what it calls a digital health wallet, or eWallet, gives the user (ie seafarer) full control over who has access to the data, which can easily be shared with relevant third parties with their consent.
It is integrated with Singapore border control. When a seafarer goes through immigration in Singapore, officials scan the QR code to verify their health status.
Riverr is piloting the system with Zeaborn Ship Management, where it is helping to facilitate safe and transparent crew changes.

Another pilot is under way with Maersk Drilling to assist its crew change process, Ms Lynge says.
Covid-19 vaccine FAQs
Will I be prioritised for a Covid-19 vaccine?
Nautilus is campaigning globally to get seafarers vaccinated along with other keyworkers. In all countries with the vaccine, decisions around prioritising seafarers outside of the clinical priority groups have not been finalised, but we believe that the benefits of offering the vaccine to seafarers include protecting supply lines and putting an end to the crew change crisis. In the UK Nautilus has written to Health Minister Matthew Hancock setting out the case for seafarers to be prioritised. The Dutch and Swiss branches continue to monitor the situation there.
When could I get a vaccine?
Seafarers who are prioritised due to clinical need (i.e. age) will be offered the vaccine as part of government programmes.
Should my employer pay for a vaccination?
At present, supplies of vaccines have been ordered by governments and will be offered to populations on a priority basis. In future, once the rollout to high priority groups has been completed, we would expect that where a seafarer who did not have a clinical need to have the vaccine but required it for work purposes – e.g. it was a requirement for travel to a certain country – then the employer would pay for a private vaccine in the same way as they would with yellow fever.
How will I provide proof of vaccination?
Currently no country requires proof of Covid-19 vaccination, however many countries insist on proof of vaccinations for diseases such as yellow fever or polio, which is in the form of an International Certificate of Vaccination or Prophylaxis (ICVP). Apps or other solutions may be developed to replace the paper certificate.
---
Tags