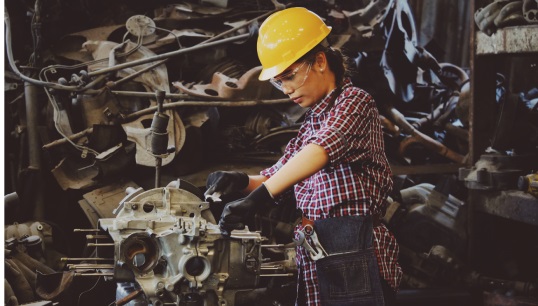 The transport sector is characterised by occupational segregation. Only 22% of all European transport workers are women – and the percentage is even lower in maritime.
Occupational segregation (systemic exclusion of women) occurs across all transport modes. In the light of the increasing worker shortages in the transport sector, this is an unacceptable neglect of expertise and talent and it harms the sector.
European Transport Workers' Federation (ETF) analysis has revealed the five main barriers for women in transport:
dominant masculine work culture and stereotyping of women
discrimination and unequal treatment of women at work
lack of work-life balance in transport, resulting in women falling into the 'care trap'
insufficient consideration of women's health and safety at work, including lack of sanitary facilities for many
a high level of violence and harassment in the workplace
The ETF is tackling these issues as part of an EU-funded project called Delivering Fair Transport for All (DFT4A). This vision of 'fair transport' is inclusive, where social, just and environmentally sustainable transport go hand in hand, thus maximising the quality of life, accessibility, safety, social justice, equality and social and economic cohesion across Europe.
DFT4A has four 'pillars', and the fourth of these of these focuses on making the transport sector fit for women to work in – particularly in the light of the major changes on the horizon around decarbonisation and automation. To guarantee a just transition for transport workers into this new world, we must include the needs and the vision of women.
A tender invitation went out in this summer to find suitable individuals or organisations to support the ETF in developing expertise and policy recommendations related to the DFT4A fourth pillar and a just transition for women transport workers. The deadline for submission of tenders closes on 23 August: more information here.
Watch this space for updates on the project, and if you have any input to give, please contact Nautilus head of international relations Danny McGowan at dmcgowan@nautilusint.org.
---
Tags