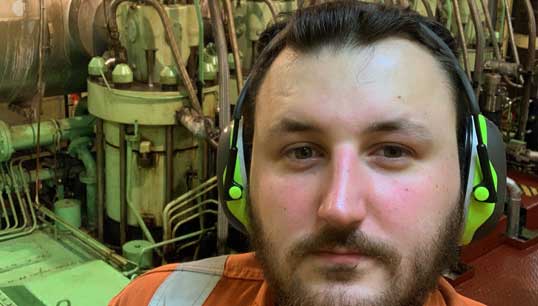 As a maritime engineer, Harley Vardakis has learnt the value of a close knit supportive team while on duty far from home, and embraces both the commitment and the opportunities of a life at sea
What is a typical day in your job?
My day starts at 08:00 hrs with a morning meeting with the whole engine room team, where we discuss any ongoing jobs and jobs to be done for the day.
Then I perform my daily checks on the equipment I am responsible for. With the generators for example, I check the lube oil sump level and all the pressures and temperatures.
On a duty day I would then go around taking all the daily figures and inspecting all of the machinery and auxiliary spaces and fill out the engine room logbook. Once I finish work, in the evenings I read up on any upcoming maintenance and prepare any paperwork required for the next day. Then I chill out by reading a book, watching movies or series or go to the gym.
Why did you choose a career at sea?
I choose a career at sea because I liked the sound of getting to work on lots of different machinery and equipment, with the opportunity to see lots of new places and meet new people. Also, being able to get four to five months off a year allows you to really enjoy your time off and enables you to travel.
Tell us some of your career highlights so far – and challenges
A big career highlight for me was when I was on a ship down in the Falklands. I was able to get off the vessel and go to Bertha's beach, and while I was there, I saw a colony of Gentoo penguins coming back from feeding while I was stood only three metres away.
The biggest challenge of my career so far was when I joined my ship late last year. After being onboard only a few days, sadly my grandmother passed away, and not being able to be at home to support my family and attend the funeral was very difficult. I struggled with feeling guilty that I wasn't there. However, the engine room team onboard is like a small family, so everyone was very supportive and helped me through it.
What are the best things about your job?
The time off is great. Having a big block of time off enables you to do so much and gives you so much freedom.
Working at sea enables you to save money very easily so reaching big milestones in your life like buying your first house is easily achievable.
Would you recommend seafaring as a career?
Working at sea is a great career which affords you many opportunities, however it is a big commitment, with lots of responsibility even as a junior officer, so it can be very challenging at times, so it is not for everyone!
Tell us one thing that people may not know about your job?
Just how vital our industry is to global trade, and keeping our country moving and developing!
Become a Nautilus Champion
Nautilus is looking for members who can volunteer their time for the Union's campaigns, media outreach and recruitment initiatives. You can help breathe life into these programmes, bring a more diverse and representative voice to the Union, and ultimately help us create greater awareness of the maritime industry among the public.
Register your interest
Meet more Champions
---
Tags