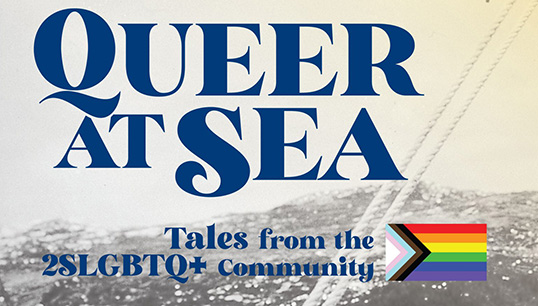 Following initiatives in Amsterdam and Barcelona earlier this year, LGBT+ seafaring culture continues to make its mark on the world's maritime museums.
The Maritime Museum of British Columbia in Victoria, Canada has been running an exhibition called Queer at Sea since May, and there is still time to visit before the end date of 5 November.
The exhibition shares personal reflections that 'allow a glimpse at the many ways that orientation and identity have played into [participants'] experiences of life at sea. Each person has a unique story, each has moments of triumph and discrimination. What they all share is a passion for life around or on the waters of the coast – from marine recreation to decades-long maritime careers and everything in between.' See mmbc.bc.ca/queer-at-sea for more information.
Coming up next is an exhibition at Bergen Maritime Museum in Norway: Skeive Sjøfolk (which broadly translates as Queer Seafarers). Maritime historian Dr Jo Stanley has been a consultant for Amsterdam and Bergen Maritime Museums, and says the maritime community is in for a treat in Bergen. 'Visitors to Bergen Maritime Museum can look forward to seeing how different Norwegian and UK ships were; seemingly there was no out camp subculture with Polari and drag shows.'
The Bergen exhibition is due to start in October. For more information, or to share your own story of being an LGBT+ seafarer, contact Dr Stanley at rainbowseas.info@gmail.com. She has also made some interesting reflections on the British Columbia exhibition for the Lloyd's Register Foundation which are worth a read.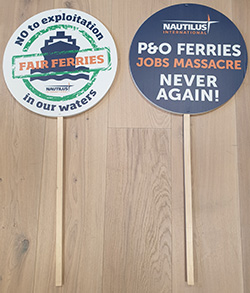 Looking now at trade union history, Nautilus can share the exciting news that Royal Museums Greenwich – home of the UK National Maritime Museum – has recently acquired some of the Union's campaign materials for its archives.
Like many cultural institutions, Royal Museums Greenwich has a policy of acquiring important artefacts relating to today's events as well as those of the past. The request that came to Nautilus was for campaign materials relating to the sacking of nearly 800 workers without notice by P&O Ferries earlier this year. There are no immediate plans to display the two 'lollipop' placards acquired for the collection (pictured) but they will be available to researchers and remain ready for use in a suitable future exhibition.
---
Tags