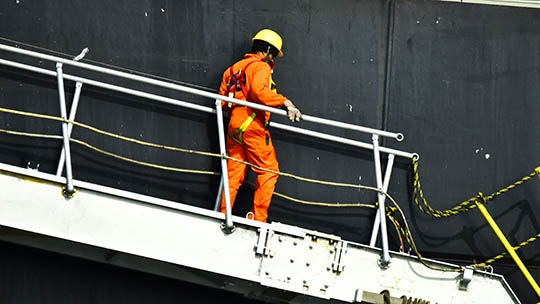 The coronavirus pandemic has had a profound impact on seafarers in the Nordic countries, with widespread temporary and permanent job losses.
The region, which comprises numerous islands, is connected by many passenger ferry routes. They have faced devastation as lockdown and travel restrictions have put a massive brake on people travelling.
This is translating into major redundancy rounds. Many lay-offs are temporary, but the unions are worried about what may be coming down the track. Most, if not all, ferry companies are under severe financial strain and there are rumblings that a big Scandinavian ferry company is in real trouble.
A report in August by consulting firm Menon Economics painted a stark picture for the maritime sector in Norway. If there were to be repeated waves of coronavirus infection globally and in Norway, it would result in almost 20,000 fewer jobs in the industry by the end of 2022 than there were at the start of 2020.
Its main scenario, with no drastic improvement or worsening soon, sees some 13,000 job losses. This is from a base of 86,500 employees in 2019, or 15% of all jobs.
The industry was already ravaged by the sharp downturn in the offshore sector caused by falling oil prices and production in 2014. Then, there were 110,200 people employed in the maritime sector.
Although redundancies can lead to members leaving their union as people seek employment out of the sector, union membership is for now either holding steady or increasing.
In fact, the uncertainty around jobs and the pandemic has led to a rise in people joining unions.
Norway
Norwegian Seafarers Union spokesman Morten Øen says large-scale lay-ups of large passenger vessels by Color Line and Hurtigruten has resulted in most of their members being temporarily laid off. 'There's the potential for losing quite a lot of members if they can't get back to work and with the rising levels of Covid-19,' he says.
In the last month, Hurtigruten has cut more of its route departures along the Norwegian coast between Bergen in the south and Kirkenes in the north. It plans to drastically cut ferry operations from 11 to two, the MS Kong Harald and MS Polarlys. Its daily service to 34 ports will be curtailed, dropping to one call every 5-6 days – described in the communities served as 'a catastrophe'.
Color Line operates seven ships on four routes between Norway, Sweden, Denmark and Germany. It has announced cost cuts with jobs going in 2021 on the back of severe travel restrictions to and from neighbouring Scandinavian countries, including the cancellation of all travel to and from Kiel, Germany. In March, it temporarily laid off 2,000 staff, although 1,300 are now back full-time.
A Menon survey found 15% of all maritime jobs in Norway would be lost due to Covid restrictions
In terms of the long-term viability of ferry services in Norway, Mr Øen says there are too many uncertainties to judge. 'We don't know how much the government will intervene – there's still money but they just keep their intentions to themselves.'
The union has 10,758 members and has continued to grow, despite a sharp increase in members leaving the union this year.
Norwegian Maritime Officers' Association (NMOA) chief executive Hans Sande is optimistic his members will get through this crisis, as they have done many times before. NMOA has 7,200 members and Mr Sande estimates membership has increased by 10% during the pandemic as officers look for an organisation that has their back.
NMOA organises in both major sectors in Norway: oil and gas, and passenger ferries. It has around 1,000 members in the deep-sea segment, which has continued to operate without much change in terms of jobs, although employment has been hit in the car carrier segment. 'The oil and gas market is down compared to last year by some 40%. It's expected a lot of vessels will be going into lay-up. The forecast is that the number of laid-up ships will be higher than during the crisis in 2015.'
Oil and gas operators are looking into scrapping vessels in order to balance the market.
There has not yet been an explosion of unemployment among seafarers. He thinks if they can manage to get through this crisis in the first quarter things should work out. The Norwegian government has already announced general support measures worth £10bn [what is the Norwegian equivalent?] and it is hoped more specific measures will be announced in the autumn.
This may mean adapting to new areas of employment, such as fish farming, a boom industry.
Despite the challenges Mr Sande remains optimistic. 'I'm 60 and went to sea when I was 16. This is a very cyclical industry. I went to sea when we had the big crash of 1987.
'We live by the sea and off the sea… I'm positive but concerned in the short term and for every seafarer unemployed; it's a tragedy. In some families both husband and wife are employed by the same company.'
Finland
Simo Zitting, President of the Finnish Seamen's Union, which represents ratings, says although half of the union's 5,400 working members have been laid off due to the country's restricted ferry routes, no-one has lost their jobs yet as ships still have to be maintained. 'For the moment, we've not seen any changes to membership,' he says.
Members receive unemployment benefits from a government fund part-administered by the union, and so are still in the union. 'Of course if this thing continues and ends up in a situation where the shipping companies stop the routes, then that will have an impact on our members.'
Viking Line has announced it is reorganising and cutting land-based staff in Finland, Sweden, Estonia and the Åland Islands to cut costs. It is expecting a shift to part-time jobs, layoffs or redundancies for up to 200 people, over a third of the land-based workforce.
The union says Viking is not the only company suffering financially as a result of the coronavirus pandemic. Finnish freight volume is down 30%-50% and most ferry companies are running at a loss. A couple of small freight ferry companies have gone bust.
Denmark
Danish unions have experienced a surge in new members as workers seek security. But the unions also administer unemployment benefit funds, which ensure a higher income than state benefits. So the jobless remain connected to the union.
Dansk Metal head of maritime Ole Philipsen says his union has dealt with two big ferry companies hit by travel restrictions, DFDS and Fjord Line. Some of the DFDS departures have had fewer than 60 passengers on board.
The two ferries on the Copenhagen-Oslo route, Crown Seaways and Pearl Seaways, have capacity for 1,790 and 1,989 passengers respectively.
Mr Philipsen says the union agreed a deal with DFDS which prevented the laying off of 50 seafarers in hotel/catering on the two passenger ferries operating between Copenhagen and Oslo - the Pearl and Crown. The deal means less time at sea (45 days on, 75 off) and a 17.5% cut in salaries for 120 days.
'I was pleased with the agreement because it saved a lot of jobs. There were no protests. It was mainly hotel crews. If they lost their jobs, there would be nowhere else for them to go and get jobs.'
Metal Maritime was not able to prevent job losses at Fjord Line, despite best efforts. It is losing 80 jobs among its members. However, the union expects most of those laid off on the Oslofjord ferry will be rehired after the ship is reflagged to Norway.
Metal Maritime has also seen a sharp uptick, with 150 new members joining, equating to about a 7% rise.
Mr Philipsen notes that DFDS has freight and passenger activities, while Fjord Line relies solely on passengers so is more vulnerable. 'It's a crisis that we have to get through. We've been through many.'
Sweden
Seko Seafarers are bracing themselves for 'a catastrophic loss' of members. President Kenny Reinhold says: 'We can only speculate about the next six months. But right now, we are losing around 20%-25% of our members. Maybe not this month, over 500 have been terminated but not finished yet.'
Some 1,200 Swedish seafarer members are losing their jobs in all, most of them young.
Passenger ferry companies including Silja Line, Viking Line and Stena Line are all shedding jobs in Sweden to cut costs and adapt to lower demand. The union has around 5,500 members working as ratings. Each summer it gains a further 800 or so as casual workers on the ferries. That did not happen this year. Seko Seafarers is part of the SEKO union, which has 70,000 members.
Mr Reinhold says Scandinavian ferry companies are changing their business model. Gone is the concept of ferry travel as an experience, it is now a function for getting from one place to another, without fancy restaurants and bars. He says around 2,200 people normally leave Stockholm on a ferry each day. That business has evaporated.
Unions and employers have called on the government to extend its support package till the end of 2020. Mikael Huss, director of the Sjöbefälsföreningen officers' union, says many more jobs would have been lost if the government had not brought in its support measures in July.
---
Tags