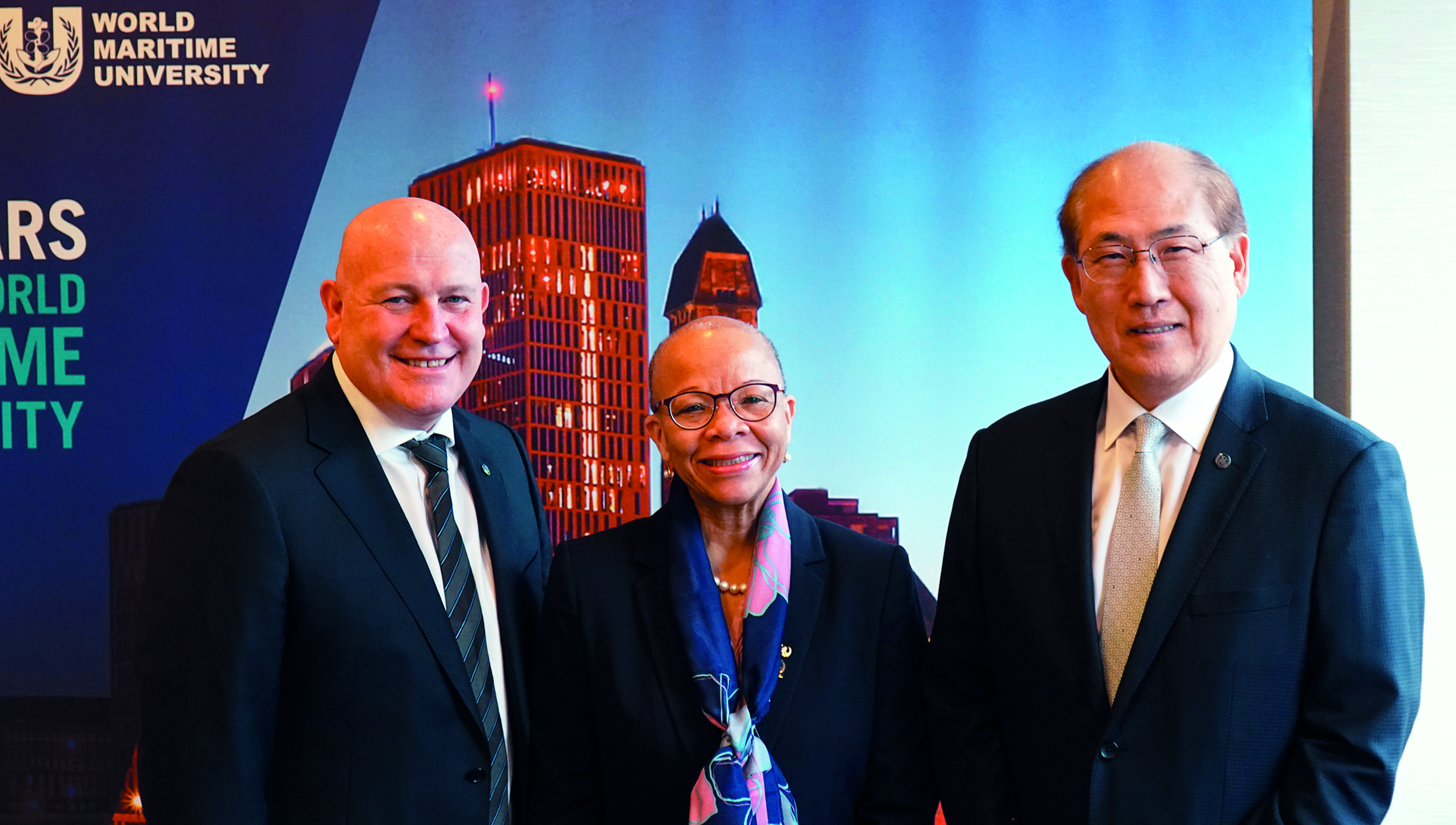 Visions of fleets of 'robo-ships' running around the world's oceans may take much longer to become a reality than technology firms predict, a new study has concluded. ANDREW LININGTON attended an event to launch the report …
Automation is unlikely to lead to widescale seafarer job losses over the next 20 years, according to the results of a major new research project.
A two-year study undertaken by the World Maritime University and funded by the International Transport Workers' Federation (ITF) has concluded that new technology will cut global demand for seafarers by around 22% between now and 2040.
But it predicts that further growth in world seaborne trade will mean a continued demand for skilled and experienced seafarers – and especially engineer officers, masters, deck officers and marine pilots – which will offset the impact of jobs lost through automation.
Entitled Transport 2040: Automation Technology Employment – the Future of Work, the report analyses trends and developments in shipping, road, rail and aviation, with an emphasis on the implications for jobs and employment for transport workers.
Researchers concluded that the introduction of automation in global transport will be evolutionary rather than revolutionary, and 'despite high levels of automation, qualified human resources with the right skillsets will still be needed in the foreseeable future'.
The research, which was unveiled in a conference at the International Maritime Organisation in January, suggests that the take-up of autonomous shipping will be slow, as a result of unclear economic benefits, high costs of investment, and the significant changes that will have to be made to the maritime regulatory regime.
The study says the impact of automation will vary across different regions, and workers will be affected in different ways, based on their skill levels and the varying degrees of preparedness of different countries.
Despite high levels of automation, qualified human resources with the right skill sets will still be needed in the foreseeable future
But it recommends that unions, owners and maritime authorities do much more to collaborate on the development of new training programmes and new skillsets.
Professor Jens-Uwe Schroder-Hinrichs, who led the WMU research, said the results gave a generally positive message for workers – although the impact of technology may be felt more strongly in sectors where there is no shortage of certain types of skills or safety concerns to be addressed.
The introduction of autonomous ships is likely to be slow, he added, as there continue to be some big questions about the business case and the global regulations that need to be changed to permit their use.
Medium and low-skilled jobs will be most at risk, Prof Schroder-Hinrichs said. Engineer officers, marine pilots, deck officers and masters are among the transport workers judged to have the lowest likelihood of being replaced by automation, while ratings are put in the medium risk category.
The report says that highly automated ships could cut crewing levels by between 16% and 24% over the next two decades, and global demand for seafarers could fall by up to 22% as a result. 'However, this does not mean a 22% reduction in the number of seafarers, as forecasts for future growth in seaborne trade suggest that the total number of seafarers will increase,' Prof Schroder-Hinrichs stressed.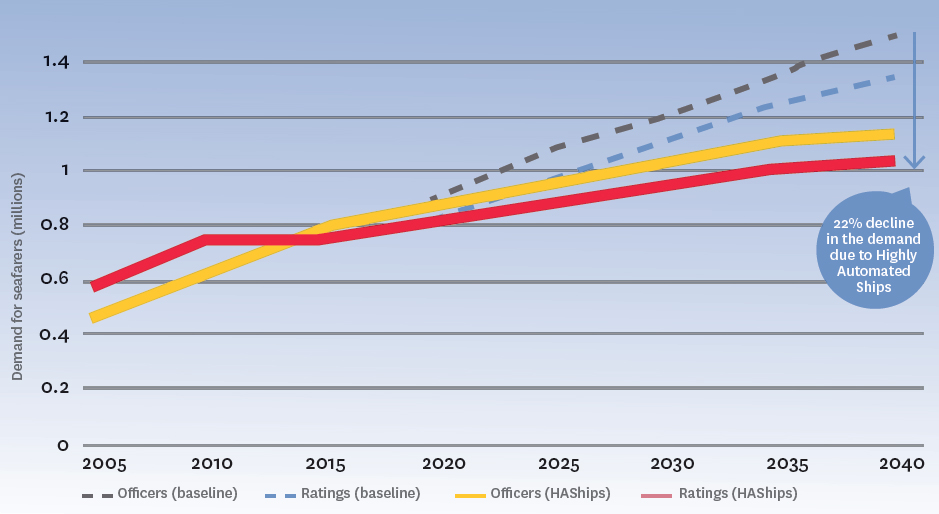 He said the impact is likely to vary across different regions – with some countries much more prepared for automation than others. Many flag and port states have yet to develop strategies for maritime automation, the report notes, and none has so far produced an over-arching policy that combines regulations with innovation, competencies and skills, infrastructure and future business models.
However, he added, there is a significant potential for automation on inland waterways – with the strong environmental drive for modal shift likely to result in a big increase in waterborne transport within Europe in particular.
Prof Schroder-Hinrichs said there is a need to raise awareness of the implications of introducing automated technologies in transport, and there should be 'intensive dialogue' between stakeholders such as trade unions and equipment manufacturers, as well as work to identify the core skills that will be required to successfully implement new technologies.
Countries also need to consider policies that will address the effects of further automation – such as who will pay for the re-training that will be required. Developing nations also need support to cope with the effects and to ensure they are not left behind, he added.
Opening the launch event, IMO secretary-general Kitack Lim said the report identified the need to consider how technology would affect seafarers and how their training and education will need to be developed. 'Member states and the industry need to anticipate the impact these changes may have and how they will be addressed,' he added.
ITF general secretary Stephen Cotton told the meeting that it was time to give transport workers a voice in a debate over automation which has so far been dominated by technology companies. 'We believe workers are at the very centre of this, and the proposals laid out by the manufacturers are not the answer to some of the challenges we face,' he continued. 'Transport workers of today and tomorrow must be equipped with the required knowledge, skills and expertise for the jobs of tomorrow. The study provides the information needed to support these aims. The ITF remains committed to working in partnership to ensure our unions and members are central to developments in building the future of work.'
ITF maritime coordinator Jacqueline Smith said it is vital that new technologies are 'user-driven' and not simply imposed upon seafarers. 'It should not just be the manufacturers and technical companies trying to sell their products, as the variations in the same kind of technology can be very confusing,' she added. 'And who will be paying for the upskilling is a very big issue, especially in developing countries.'
World Maritime University president Dr Cleopatra Doumbia-Henry said the 'ground-breaking' research had highlighted the likelihood that the introduction of automated systems may be slower than is often predicted. 'The most fundamental message is that despite the growing levels of automation and technology, qualified human beings will continue to be the backbone of global transport,' she stressed.
---
Tags