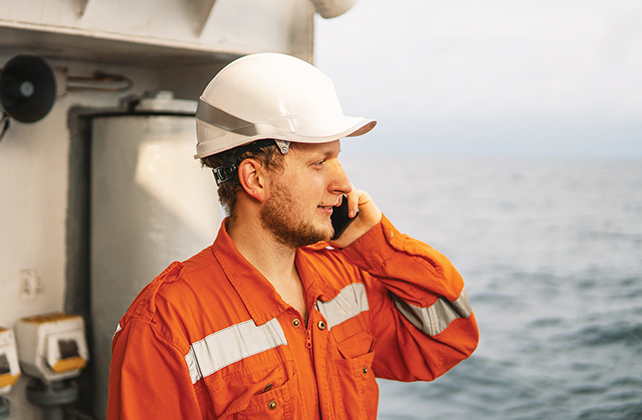 Data compiled by Nautilus shows that the UK government's proposed new points-based immigration system could help put an end to social dumping ‒ the use of cheaper overseas labour ‒ in British waters. Helen Kelly reports
Seafarer employment is set to receive a boost in the UK after the Home Office indicated that its post-Brexit points-based immigration system will apply to seafarers working in UK waters from early next year.
A wage floor set at more than £25,000 for work visas for foreign nationals under the new system should put an end to the use of cheap overseas workers in the UK maritime industry and bring to a successful conclusion years of lobbying by Nautilus International.
'We would have preferred to have negotiated an end to social dumping with the shipowners but nevertheless this is a major triumph for our lobbying of government. It puts a floor in the wages of all seafarers in UK waters, including on port voyages and on the UK continental shelf, and will thus help protect UK seafarer jobs,' Nautilus International general secretary Mark Dickinson said.
The full benefit of a points-based system will be felt after October, when the National Minimum Wage will for the first time include seafarers working in British waters and on the continental shelf.
The National Minimum Wage (NMW) and the Points-Based Immigration System will create a pincer movement on the exploitation of foreign seafarers by employers, who will now have to pay them at least £25,000 per year in order to secure a working visa.
The rules will apply to any ship working in UK waters or the continental shelf. It excludes international voyages and any vessels passing through UK waters.
It would also exclude ferries from the UK to the Republic of Ireland or mainland Europe.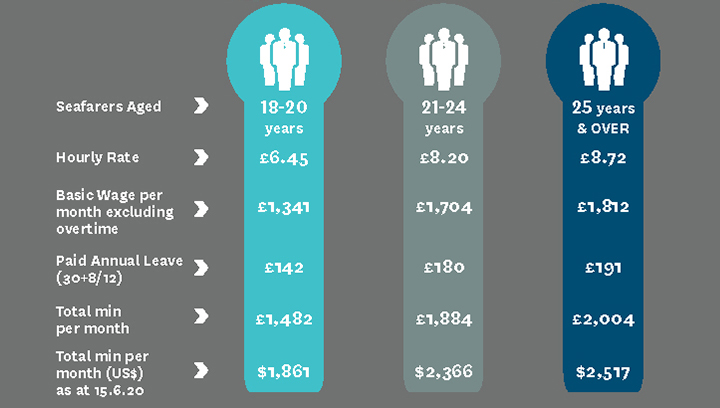 Data-driven
According to data compiled by Nautilus, a seafarer aged 25 or over earning the National Living Wage of £8.72 and working 48 hours per week would earn around £24,000 per annum plus overtime at 1.25 of the hourly rate as per International Labour Organization (ILO) requirements. A seafarer aged between 21 and 24 would be entitled a minimum of £8.20 per hour and on the same basis earn at least £22,600. [See pay age chart].
Compare that to a foreign national brought in to work the same job under the new immigration system whose total monthly salary would be around $1,800 per month consolidated including overtime, which is well below the £25,000 per annum required to secure a work visa or comply with the NMW.
The increased costs of hiring a foreign national would create a strong financial rationale to employ British seafarers, particularly at entry level positions such as able seafarer, oiler and steward.
Employers would also benefit from employees competent in British training standards and English as a first language.
The risk in introducing a wage floor for seafarers is that some employers will try to drive down salaries for higher ranks.
'It is possible that some employers believe they can drive down the wages of the higher paid towards the new legal minimum rates. So, the new rules could be a double-edged sword,' Nautilus legal director Charles Boyle warned.
'In the late 1990s, when the original national minimum wage legislation was introduced, industry warned it would cause untold damage to the UK economy. It didn't and we suspect the same warnings now about the impact of the extension of the NMW to seafarers in UK waters and Continental shelf will similarly be found to be exaggerations,' Mr Boyle said.
---
Tags