Members at work
Ship welfare visitor Jun Ranario on how German cooking got him into a maritime career and his deep commitment to seafarer welfare
12 December 2022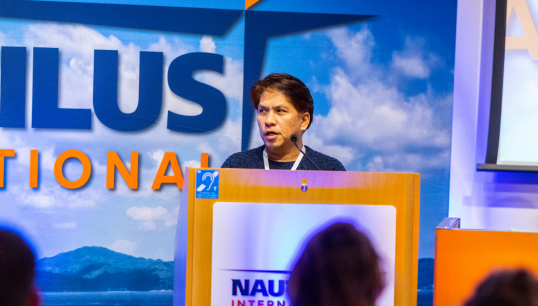 Jun Ranario found his way into maritime through a need to support his family, and developed his care for others in his role working for the Liverpool Seafarers Centre
What originally attracted you to a career in maritime?
I was born in the Philippines. Finding a job at home wasn't easy so looking for work abroad was the better option. It's particularly difficult when you are a fresh graduate, as every employer wants you to be experienced, so it's important to gain experience even if it doesn't line up with the qualifications you have.
I finished my Bachelor of Science in Hotel and Restaurant Management and ended up working as a service crew in one of the fast-food chain restaurants in Manila. I was determined and eager to go abroad so I used my day off scouting for work.
Eventually this paid off and I went to work in Sheraton Gulf Hotel in Qatar as commis II chef. I then used this experience to move into maritime. I was not attracted to maritime really, but I didn't have a choice in those days, it was my only opportunity of a better job to support my family and future family.
Do you have any personal or family connections to the sea or inland waterways?
Yes, my wife's relatives were in maritime professions.
What did you do in your career and/or education before joining the maritime sector?
I used to work in a hotel and my first maritime-related job was when my agency company sent me to Germany for three months on a training vessel to learn more about cooking German dishes.
What does your current job involve?
I work for the Liverpool Seafarers Centre providing welfare support to all seafarers coming to Liverpool and the Mersey. It could be spiritual support, arranging for them to have Mass, or as simple as helping them to set up their internet data so they can call their family back home. If we can, we invite them to the seafarer centre or provide transport to the city. Some of the crew haven't been ashore for several months. Simply, we follow the Bible verse Matthew 25:35: 'I was a stranger and you took me in'.
Tell us some of your career highlights and challenges
During the height of the Covid-19 pandemic, although the centre was closed, we were still aiming to do our ship visits as normal, although sometimes we were denied access onboard as part of a ship's protocol on visitors.
It was a busy time as crew had no shore leave so we were doing their shopping and offering to help in any way we could. Covid made life difficult for seafarers. Their contracts were extended as they couldn't travel home, so this meant they were not able to attend family funerals, and some were longing to see their dying parents in the hospital and so many other scenarios. So it was a very challenging time but also very rewarding to be able to help people.
Who has helped you the most in your career?
As a 23-year-old I had it in mind that working abroad would give me a bit of an advantage. My parents and family supported me, as there were a lot of expenses involved.
When I went to sea, the captains and my crewmates taught me a lot about being a seafarer. Eventually I joined a ship sailing from Liverpool to Dublin. We were visited by the chaplains and ship visitors from Flying Angel (Mission to Seafarers) and Stella Maris. I saw the support they gave seafarers, and so, when I could, I started working for seafarers too.
How long have you been a member of Nautilus, and what made you join?
I joined in 2021 because, once I was connected with the Union, I knew I could offer more help and guidance to seafarers. I knew that Nautilus could guide me if there is anything that seafarers need that is beyond my knowledge.
The maritime industry is a massive industry. I can only hope that in future there will be 'fair treatment' as Nautilus promotes, because there's a lot of discrimination that still exists.
Are you a member of any Nautilus forums or committees, or have you attended a Union conference?
I attended the recent Nautilus UK Branch Conference in November 2022. I enjoyed it because I could speak about things that I have seen with my own eyes from the lives of seafarers.
What is the one change that would make the biggest positive difference to your job as a maritime professional?
Fair treatment for all, with no discrimination of any type.
What are your plans for the future/career aspirations?
To gain more knowledge on helping seafarers with their welfare, especially in regard to legal protection.
What do you like doing in your free time?
Family time. I'd like to have more time with my children while they are still at home. I am a keen photographer and try to support Filipinos now living in UK.
What is your favourite place you have visited during your career?
The Falkland Islands Penguin Sanctuary. The history about the place was that it was supposed to be a place for minefield to maim British soldiers, but I guess nature didn't want it to happen.
---