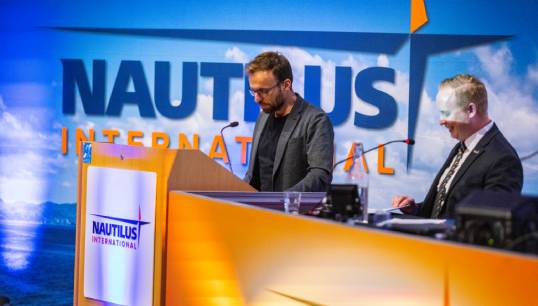 At the Nautilus Professional and Technical Forum in April, head of international relations Danny McGowan gave a presentation on the hot maritime topic of 2023: the Just Transition.
What this means at its heart is that workers should be treated fairly in the move towards greener shipping. Nautilus is part of the international Maritime Just Transition Task Force, which recently commissioned a report by the DNV classification society to seek insights into the seafarer training and skills needed to support a decarbonised shipping industry.
The DNV report focuses on the four 'alternative' energy sources that are closest to widespread adoption: LNG and LPG, hydrogen, methanol and ammonia.
The concept of Just Transition means that if some of these alternatives are implemented, there should be a health and safety first approach, with strict rules about handling dangerous new fuels like ammonia and human-centred design for new vessels and new technologies onboard.
It also means that training should be standardised, should be provided at no cost to existing seafarers and not-for-profit for new seafarers.
The DNV report is helping to bring clarity on the uptake of alternative fuel options and the trajectory of decarbonisation, so that the industry can plan for the transformation of the maritime workforce.
Another document that contributes to this process is the Maritime Just Transition Task Force's 10 Point Plan, which establishes Just Transition principles such as global labour standards, gender and diversity and health and safety.
To read the DNV report in full, go to the resources section of the Nautilus website
Have your say on the Just Transition
Members attending the Professional and Technical Forum brought up the following points to feed into the Union's work on the Just Transition. If you would like to add to these views, why not come to the Nautilus General Meeting in Liverpool on 24-25 October?
'We should be talking about how we can make these fuel changes without damaging equipment, which is what happened before when we changed the composition of fuels'
'It's all very well to talk about educating people in the new fuels, but who's going to provide the education when nobody has the experience of using them?'
'Maybe simulators could play a part in getting the training up and running more quickly'
'I'm worried about the quality of training in certain places. We need a standard for these new fuels that works across flag states and doesn't allow worthless tickbox training'
'We're early adopters of some of the technology in the yacht sector and we want to see our expertise used in the standard-setting'
'To really cut carbon emissions, you have to look at the cradle to grave lifecycle of a vessel and consider whether it's greener to refit or start from scratch'
---
Tags