Health and safety
UK charity QVSR plays its part in a global vaccination initiative for visiting seafarers
28 July 2021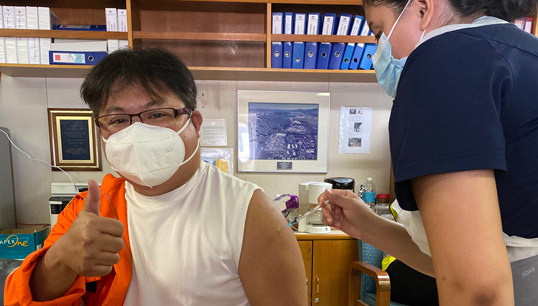 Covid-19 vaccinations for seafarers have been challenging globally, but one UK charity has managed to organise vaccinations for visiting crew at a seafarer centre in London, in what they hope can become a model for other centres and port authorities.
More than 600 visiting seafarers in the UK have been vaccinated in the last month at the Port of London, thanks to determined efforts by the Queen Victoria Seamen's Rest (QVSR), a Methodist mission charity which runs the seafarers' centres at the Port of Tilbury and DP World London Gateway.
Despite repeated calls for seafarers to be prioritised for vaccinations as keyworkers, progress has been slow.
Nautilus and the UK Chamber of Shipping have called for the UK government to offer vaccinations to visiting seafarers. In a joint letter to the Secretary of State, they ask that authorities actively offer vaccinations to seafarers visiting British ports. This initiative has been encouraged by well-publicised programs in Belgium, Germany, the Netherlands, Italy, Cyprus and the United States.
QVSR's Seafarers Centres project coordinator David Mosimabale said: 'Despite the immense value seafarers bring to the global economy, even more so during the pandemic, receiving Covid-19 vaccines have been difficult. The nomadic nature of this profession, huge liability cost when ships cannot sail due to Covid-19, and low vaccination opportunities in many countries, are some of the challenges facing this sector.
'Although UK laws and port authorities (in line with ILO and IMO regulations) mean ports are open to seafarers leaving the ship when visiting UK ports, the fear of contracting the virus deters seafarers from leaving the ship when on UK shores.'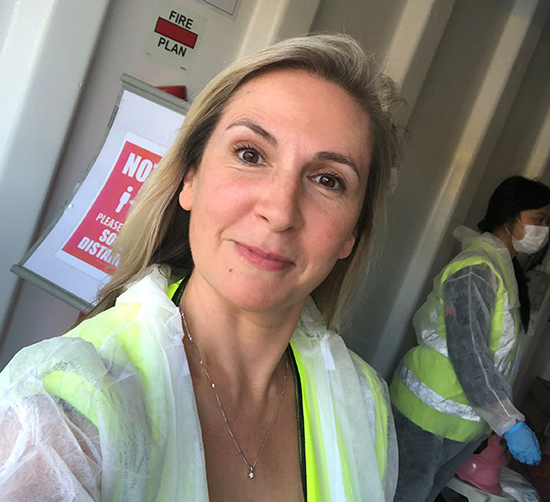 QVSR managed to organise the vaccinations for non-UK crew via its London Tilbury Seafarer Centre, as part of an initiative undertaken by 'the tireless efforts' of its London and Tilbury Chaplain Ruth Campbell, said Mr Mosimabale.
Chaplain Campbell explained that she was inspired to organise locally, after hearing reports that cruiseships were hiring UK GPs to register recipients in order to carry out vaccinations. The NHS number requirement was later removed for homeless people to ensure the UK population was fully vaccinated, and it was then deemed that non-UK seafarers could be vaccinated, she said.
Chaplain Campbell's approach in solving the logistical challenges involved working closely with John Cousley, head of seafarers at the Department for Transport; as well as shipping agents, port authorities and the NHS. She started the operation by initially taking seafarers from their respective ships to the local NHS vaccination centre at Chadwell, which is local to the port of Tilbury.
QVSR chief executive, Alexander Campbell said: 'QVSR is delighted to be playing it's part in this global vaccination initiative. It is important that we recognise and value the contributions that seafarers make as vital key workers. Where would the UK be without seafarers supplying essential goods throughout this COVID crisis? I pay tribute to the NHS and their willingness to work in partnership with our Chaplain in order to vaccinate hundreds of seafarers visiting the Port of London.'
While the initiative started at the seafarer centres, it soon became clear that the easiest way to carry out the vaccinations was to take the vaccines to the seafarers onboard the ships. Now a team of medical personnel led by Chaplain Campbell head up the various gangways daily, to be greeted by seafarers from various merchant vessels, including bulk carriers and container ships, all eager to receive their Covid-19 vaccination.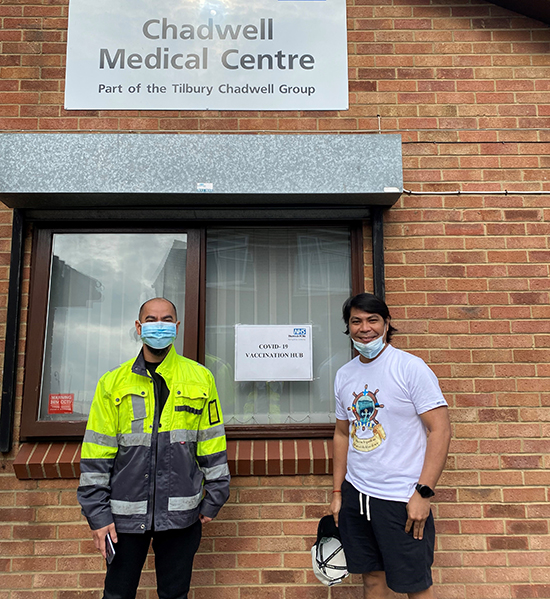 Chaplain Campbell maintains a database of all who get vaccinated, and partners with the International Christian Maritime Association (ICMA), who have a global database of ship ports vaccinating seafarers. She said that: 'This allows visiting seafarers to be able to take their second jab when visiting other ports globally or on their return to the UK. Seafarers taking up vaccinations do this in the hope that by being vaccinated they will cut down the period of quarantining when they return home after their time at sea.'
Chaplain Campbell admits she had to 'jump through many loopholes', to get the initiative underway and faced a lot of prejudice, misunderstanding and 'sea blindness' on Merchant Navy careers.
'[Authorities] were worried about encouraging more asylum applications - some didn't seem to understand seafarers have the right to shore leave. There were also concerns about legalities, and a lack of medical records for seafarers, which is understandable. But we said, actually seafarers are quite healthy, they have to go through health checks all the time, and you are now vaccinating migrants and homeless who don't have NHS numbers, so we were lucky to be doing things at the right time [for the UK vaccination programme] really.'
Chaplain Campbell said she found a database of ports that are offering vaccinations in the UK on the face of it, but most were at early stages, and none were anywhere near implementation.
QVSR is about to start rolling out vaccinations at London Gateway, and after that at smaller jetties along the north side of the Thames. It hopes other seafarer centres and port authorities can follow the model that has been established in the Port of Tilbury and Chaplain Campbell is happy to offer advice.
---
Tags