Maritime community events
11 May 2021 15:30 - 17:00
Build Back Better webinar
Venue: Register now for this online event hosted by Maritime UK and sponsored by Nautilus International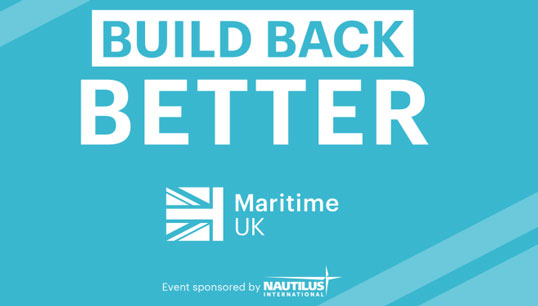 Register now to hear leading industry experts debate how the maritime sector will 'build back better' after Covid-19 at a webinar hosted by Maritime UK and sponsored by Nautilus International.
Following an address by Maritime Minister Robert Courts MP, the panel will set out their priorities for the future, and what is required from the sector to ensure that the recovery is as progressive and sustainable as possible.
This will include shorter term priorities such as job security and recruitment, as well as longer term considerations around green growth, innovation, and opportunity for coastal communities.
The event will set the scene for Maritime UK's Maritime 2050 Conference, to take place on 25 June, where the longer-term ambitions of both industry and government will be explored in more details against the backdrop of the recommendations set out in the Maritime 2050 strategy in 2019.