Maritime non-fiction / War history
Merchant Navy voices heard in valuable new Falklands history
Glimpses of the Falklands War, edited by Andy Cockeram and Jerry Cockeram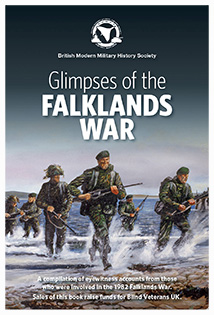 In early 2022, the Nautilus Telegraph published an appeal by the British Modern Military History Society for Merchant Navy veterans of the Falklands conflict to share their experiences for a new book. The appeal was a success, and now those veterans' stories form part of Glimpses of the Falklands War, which has been published to mark the 40th anniversary of the 1982 conflict.
This substantial volume aims to represent all kinds of involvement with the British side of the conflict, from the dock workers preparing vessels for the Falklands Task Force to military personnel and the Falkland islanders themselves.
Merchant Navy stories begin with the son of a crew member on the Monsunen, a coaster owned by the Falkland Islands Company which was captured during the Argentinian invasion. The son tells of his father's fear at having a gun held to his head and shame at being forced to change the flag of the vessel.
Then there are the civilian-crewed Royal Fleet Auxiliary vessels and the 'ships taken up from trade' (STUFT): British merchant and fishing vessels requisitioned by the UK government as troop carriers and supply ships. These famously included the liners Canberra and Queen Elizabeth 2, as well as the cargoship Atlantic Conveyor, which sank as the result of an attack.
The crew members on all these vessels included many who were members of the Nautilus predecessor unions MMSA, MNAOA and NEOU. It is fascinating to hear these members' wartime experiences in their own words, and also how they and their vessels were seen by military personnel (apparently, the luxurious QE2 was particularly popular as a troop carrier).
Glimpses of the Falklands War organises all the contributions into a narrative giving a chronological account of the conflict, while also offering some background information and dates of key events. The stories of course include tales of bravery under fire, but also show the lighter moments of gallows humour among the participants.
There is enough information for the book to serve as an introduction for those new to the conflict, but it can also jog memories and provide new perspectives for others. All in all, a fine effort which offers a powerful reminder of those who lost their lives and the continuing trauma suffered by many of the surviving participants. Proceeds from the book will raise funds for the charity Blind Veterans UK.
Glimpses of the Falklands War
Edited by Andy Cockeram and Jerry Cockeram
Self-published by British Modern Military History Society, £20 (available in the Nautilus Bookshop)
ISBN: 979 88075 60230
Buy this book in the Nautilus Bookshop
While you're there, why not browse the rest of the titles in our unique maritime bookshop, which sells all the books reviewed on these pages.
Buy now