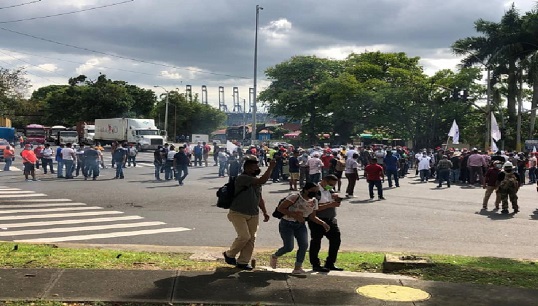 The Nautilus Federation has been made aware of violent scenes during a protest attended by one of its affiliate unions, La Unión de Capitanes y Oficiales de Cubierta (UCOC), on 29 April 2021.
In a series of videos sent to the Federation, Panamanian police authorities can be seen restraining and detaining workers, some of whom included UCOC members. Shots can be heard, and it is reported that tear gas was also used in an attempt to disperse union members.
UCOC, which represents Panama Canal tugboat captains and deck officers, was protesting alongside other Panamanian unions representing canal workers, calling for safer working conditions following several incidents. They called for improvements to the working hours of UCOC members as the current system causes high levels of fatigue. Collective bargaining agreement negotiations have also been conducted 'in bad faith'.
Five UCOC members were present at the demonstration, alongside twenty members of another Nautilus Federation affiliate – Unión de Ingenieros Marinos (UIM) – representing canal engineers. One UCOC member and three UIM members were arrested and later released.
Both UCOC and UIM are themselves affiliated with Nautilus Federation affiliates in the United States – International Organization of Masters, Mates and Pilots (MM&P) and Marine Engineers' Beneficial Association respectively.
UCOC said via a Tweet (@UCOCPTY): 'Acts of repression such as those of [29 April] denote the intention to continue suppressing the workers until their intention to defend themselves is extinguished.'
A UCOC spokesman said: 'Canal labour relations are at an all-time low, and it appears that the Panama Canal Authority (ACP) seem to be revelling in this fact. We asked ACP to approach us as trade unions to negotiate properly, but it seems to have forced the police's action by ignoring that request, in order to justify the use of force.'
Nautilus Federation director Mark Dickinson said: 'Workers should be able to call for safety at work without fear of violence or repression. It appears there are grounds for complaints to be made to the International Labour Organization (ILO) about the violation of workers' rights, and we stand ready to support UCOC and the International Transport Workers' Federation (ITF) in escalating the matter.'
At the time of writing, ACP had not contacted UCOC about the protest or the detention of its members.
UCOC, UIM and the other Panamanian unions representing canal workers plan to return to continue their demonstration on 6 May.
---
Tags