Health and safety
Bahamas Maritime Authority releases report into Pride of Hull engine room fire
16 December 2021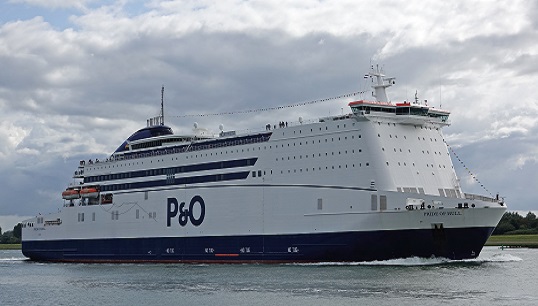 The Marine Accident and Investigation Branch (MAIB) has shared the Bahamas Maritime Authority (BMA) investigation into a fire that resulted in the disablement of the Bahamas-registered ferry Pride of Hull last year.
On 20 October 2020, the ro-ro passenger ferry Pride of Hull was outbound in the Humber Estuary when a fire was detected in the vicinity of the thermal oil circulation pumps. Shortly after, the vessel lost electrical power and propulsion, but used remaining headway to anchor safely.
The vessel's Hi-Fog fire suppression system activated automatically but did operate as expected and could not control the fire, which was then extinguished using the vessel's fixed CO2 system. The vessel then returned to port the next day. No one was harmed, damage was limited, and no pollution was reported.
The report concluded that the fire was caused by a series of mechanical failures in the thermal oil circulation pump, and the pump had a history of bearing and mechanical seal failures.
Based on the conclusions, the BMA has given a list of lessons to be learned following the accident:
Frequent failure of equipment generally indicates a weakness in the system. Identification of the causal factors can facilitate a conversation with the equipment's manufacturers to identify effective remedial actions
Any engineering change or modification of equipment should be preceded by an impact of change assessment to ensure the modification does not have unwanted impact on the operation of equipment or the associated systems
Fire suppression systems installed in machinery spaces before 2021 may not be as effective as those installed later. Operators should check that the system design meets their requirement and ensure that contingency plans reflect any limitations of the system
Fire suppression systems that are not connected to the emergency power supply do not work when the vessel loses mains power. Water mist systems do not work if their water supply is compromised. If the system is dependent on separate feed pumps, these should be connected to the emergency switchboard and activate automatically
Thermal imaging cameras are an excellent tool for identifying the seat of a fire, especially in reduced visibility
Re-entry into space after CO2 flooding carries a risk. CO2 has a limited cooling effect on temperatures at the seat of a fire and does not remove fuel. Entering the space too soon may allow entry of oxygen and can cause the fire to reignite
The full report can be read on the BMA website.
---
Tags