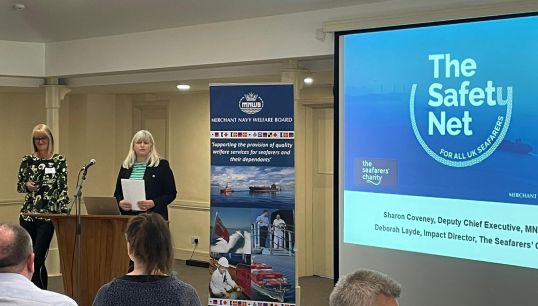 Two maritime charities have created a 'Safety Net' for UK Merchant Navy seafarers as a response to the cost-of-living crisis.
The Merchant Navy Welfare Board (MNWB) and The Seafarers' Charity (TSC) have worked together to create The Safety Net and launched it this week at the MNWB's Port Welfare Conference.
The Safety Net aims to give help to seafarers with money management tools and advice, with information on a range of topics from personal savings to relationship and mental health.
'This much-needed service that supports the Merchant Navy comes following a taxing couple of years for UK seafarers, who face a specific set of financial challenges,' said the chief executive of the MNWB Stuart Rivers.
'The tools and resources available on this unique platform will certainly help to enhance the financial resilience of the UK's seafarer communities.'
The Seafarers' Charity CEO Catherine Spencer said: 'We understand that information is often best received when it comes from peers within trusted local, social and community networks. That's why we're boosting the financial knowledge of those close to the Merchant Navy, so seafarers have someone to turn to for reliable support.
'A hardship grant for an immediate crisis is only one part of the solution. Longer-term change is needed. This training represents a vital step towards our ambition of supporting merchant navy personnel and their families to become more financially resilient.'
The charities have also organised a free webinar on 22 June with the help of The Money Charity. The aim is to give caseworkers and support workers up-to-date information on key topics like money management and taxation.
The webinar is from 10:30 to 12:00 and is open to anyone supporting UK merchant seafarers or interested seafarers.
For more information or to book a place click here.
---
Tags