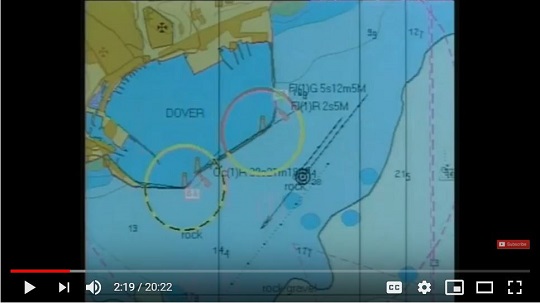 Accident investigators have raised fundamental questions about the safety of electronic chart display and information systems (ECDIS) in a report on the grounding of a liquefied natural gas (LNG) carrier off Indonesia in 2018.
The German investigation body BSU said the 38,853gt Pazifik had run aground on rocks between the islands of Komodo and Banda while sailing from Indonesia to Australia with a cargo of 18,000 tonnes of ammonia.
The BSU explicitly blamed the accident upon ECDIS, noting that it is 'systemically not yet fully developed, approved as primary aid to navigation and displaces other important sources of information, such as sailing directions, without a consistent replacement for it'.
Investigators said the risks in the area were 'insufficiently described' in the electronic navigation chart (ENC) used on the ship. 'Using the information available onboard, it was impossible for the crew to obtain accurate information about the actual navigational danger,' the report states.
The master and second officer did not consider the plotted isolated danger – designated as an underwater rock on the ENC – as a threat to safe navigation, as there was nothing in the explanatory note, nor any safety contour, to suggest the water depth did not correspond to the surrounding area.
The BSU found significant differences between three of the four British and Indonesian paper charts for the area, with two showing a 'rock awash' symbol, one showing a rock symbol and the other a shallow area with a water depth of 9m. Two of the Indonesian charts were based on data from surveys carried out between 1904 and 1908, and the paper chart on which the ENC was based showed the shoal about two cables from where it actually is.
Investigators said the accident would probably not have happened had paper charts been used on the ship, as the navigators would most likely have referred to sailing directions which highlighted the dangers in the area. In contrast, they noted, the ENC did not contain any pointers to the digital sailing directions.
The report notes that the category zone of confidence (CATZOC) for the area was C, indicating a positional accuracy of +/- 500m, and says the 'biggest shortcoming' of ECDIS is that the CATZOC attribute is not included in the route planning and associated alarms and warnings.
It also points out that an International Hydrographic Organisation working group is looking at ways to improve the presentation of ENC quality data and a guidance document is being developed to assist mariners with the interpretation of ZOC symbols.
New surveys of the waters off Komodo island are due to be carried out soon, the report adds, 'and this will be used as an opportunity to map the position and minimum depth of these rocks precisely'.
The BSU said the ship's crew had responded to the grounding in a 'professional and seamanlike manner' and the vessel was refloated two days later, going to Singapore for repairs to the double bottom and rudder.
---
Tags