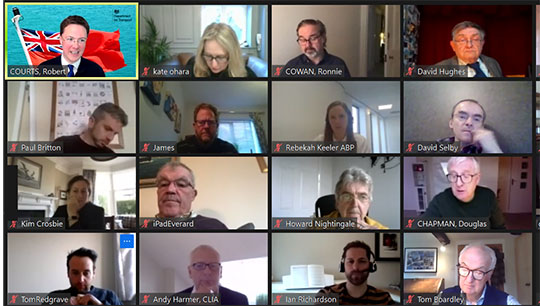 Domestic cruising will return to England from 17 May, maritime minister Robert Courts has confirmed.
Speaking at the All-Party Parliamentary Maritime and Ports Group (AAPMG) on Monday 8 March 2021, Mr Courts said: 'Last month, the prime minister set out the roadmap out of lockdown. We have now confirmed with the Cabinet Office, that those will fall under step three of the roadmap.'
Cruise operators will need to adhere to government protocols and follow Covid secure guidance regarding legal limits on groups socialising outdoors and indoors, Mr Courts confirmed.
Nautilus International general secretary Mark Dickinson welcomed the news as a significant step in securing the jobs of members and urged cruise operators to ensure the health and safety of all crew and passengers onboard their vessels.
'The cruise sector has been one of the most hard-hit sectors in the maritime industry from the Coronavirus pandemic. It is good to see clear guidelines for when it may reopen,' he said. 'We will work closely with all the cruise operators as we have throughout the pandemic to get things safely moving again.'
Carnival UK chairman David Dingle welcomed the clarity over domestic cruise travel, saying it would give the industry time to 'prove the concept' and to avoid the risk of a stop-start resumption of cruising.
He urged the government to provide clear guidance on when the cruise industry can reopen internationally, stating that operators need 12 weeks to restart their cruise itineraries and get ships moving again. 'We must remember that for us to restart does not happen on the flip of a coin,' he said.
He further urged the government to lift the Foreign and Commonwealth Office travel advisory against cruising.
The restart of international cruises is included within the scope of the Global Travel Task Force (GTTF) which will present its recommendations to the prime minister on 12 April.
This is expected to include recommendations on a safe and sustainable return into international travel, whilst managing the risk from imported cases and variants of concern.
On May 5 the Daily Telegraph reported that P&O Cruises and Princess will resume domestic cruises this summer. Both brands are owned by Carnival Corporation.
CEO of Saga Travel Nick Stace said the luxury cruise line would restart on 27 June with a planned cruise from England to Scotland. Saga is currently in negotiations with the Scottish government over its plans to reopen cruises, which to date have not been announced.
It hopes to return to international cruises from mid-August.
Saga will require all passengers and crew to be fully vaccinated before joining ship. Mr Stace urged the government to confirm its international vaccine certification requirements, proposing a twin approach: doctor's note at first and then an electronic 'green pass'.
Mr Dingle did not commit to 100% vaccination of passengers and crew, stating that many were from countries with vastly different vaccine regimes to the UK.
Since October 2020 Cruise Line Industry Association (CLIA) members agreed to 100% testing of passengers and the requirement for negative tests before boarding.
Mr Dingle said. 'We can assure you that we are ready to restart safely.'
Repatriation pledge
In a sign of how keen cruise operators are to benefit from the all-important summer cruise season and claw back some of the huge losses made since the start of the pandemic, Mr Dingle said the industry had pledged to pay for any and all repatriation needed due to Covid.
'We believe there should be no issue about the government being saddled with any costs of repatriation. In the unlikely event any sizable repatriation for cruise ships was needed it is all covered by cruise lines; we have said we will cover those costs,' he said.
The cruise industry is unique in the transport travel and hospitality sectors as having been totally prevented from operating since the start of a pandemic.
Cruise is worth £10 billion to the British economy per year. It supports 88,000 jobs including cruise line staff, sales travel agents, inbound tourism companies, ground transport operators, port workers, ship repairs, food, and technical suppliers.
Mr Dingle said the British economy has been deprived of £10 billion worth of economic benefits during the pandemic and countless jobs have been lost.
---
Tags