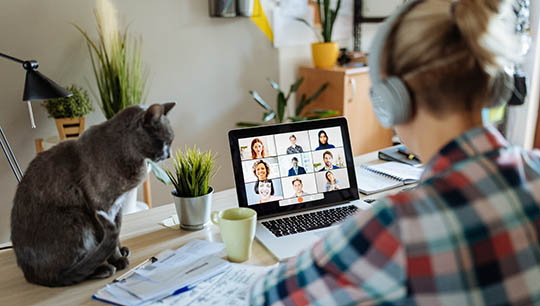 The Nautilus Equality and Diversity Forum (EDF) met via video conferencing on Thursday 3 December for the first of a new format gathering.
Chaired by third officer Samantha Belfitt, members held a lively debate on the pros and cons of social media and how to avoid toxic or damaging conversations online. The consensus was keen to support freedom of speech, while acknowledging the harmful results of disinformation and trolling.
The group felt that social media platforms should take more responsibility for policing online content to make it a safer space. Social media users were encouraged to be aware of what they are reading, what they are sharing and how much time they are giving these platforms.
Nautilus head of strategy and policy Debbie Cavaldoro said members should check their employers' social media policy to ensure they stay safe online.
The EDF also heard from several forum subgroups including the Pride in Nautilus network, the Young Maritime Professionals network (YMP) and the Women's network.
Nautilus international organiser Danny McGowan, secretary of the Pride network, flagged the TUC's LGBT+ conference in February and encouraged members to put themselves forward to attend.
A WhatsApp group for members wanting to attend 2021 Pride events has been created and interested parties can contact Mr McGowan.
Nautilus strategic organiser Martyn Grey, secretary of the YMP, reported on recent debates on simulator training for UK cadets, and plans for the future of maritime training from the Merchant Navy Training Board.
Nautilus is working to ensure maritime training remains as appropriate as possible for the future, and future training is sufficient for the way the industry is being shaped and present, Mr Grey said.
Ms Cavaldoro, secretary to the EDF, reported on work with the Maritime UK Diversity in Maritime Taskforce to set up gender neutral interview panels to tackle unconscious bias in recruitment.
Maritime UK has launched a speaker bank of people willing to present at industry events to help promote diversity on shipping speaking panels. Ms Cavaldoro encouraged interested members to put themselves forward ahead of 2021 London International Shipping Week.
The Equality and Diversity Forum will next meet on 8 March 2021 for International Women's Day.
Each meeting will include one discussion topic or guest speaker. Members interested in attending can contact: campaign@nautilusint.org
---
Tags