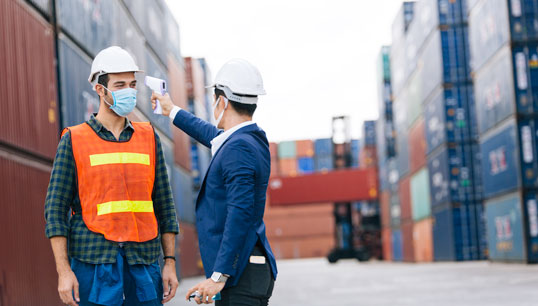 Face coverings and pre-boarding screening are among new measures being recommended by the World Health Organization (WHO) in interim guidance for cargo ships.
The use of fabric masks is recommended in all areas where interaction takes place if a physical distance of 1 metre cannot be maintained. In addition, medical masks are recommended in all areas potentially contaminated by a suspected case.
The guidance also cautions that, 'the use of a mask alone is not sufficient to provide an adequate level of protection, and other measures, such as hand hygiene and physical distancing, should be applied.'
'Promoting public health measures in response to Covid-19 on cargo ships and fishing vessels' was published by WHO on 25 August 2020 and warns that 'seafarers work in close contact environments likely to facilitate transmission of Covid-19.'
As well as providing much-needed clarity on the use of face coverings, the guidance makes a number of other key recommendations:
shipowners are advised to develop a written contingency plan and risk analysis, focusing on contact between crew members, as well as interactions between the crew and shore personnel
pre-boarding screening for all persons to identify potential Covid-19 symptoms
hand hygiene stations in prominent places around the ship
increased levels of cleaning and disinfection for all surfaces identified as being 'high touch'
training for crew members on a range of factors including hand hygiene, respiratory etiquette and social distancing
In addition to mitigating the physical impact of the virus, the guidance also emphasises the need for mental health and psychological support to be made available for seafarers, including the use of digital tools and mobile applications. Specific risk factors identified by WHO include seafarers being unable to communicate with family who may have an elevated risk, a lack of access to medical facilities onboard and impact of the ongoing crew chance crisis.
---
Tags