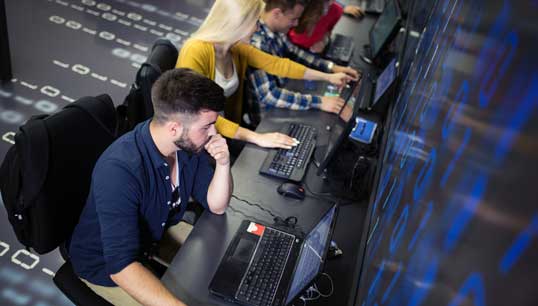 Managed by the Marine Society on behalf of Nautilus International, Slater Fund scholarships offer up to £18,500 to cover a range of expenses connected with maritime studies, with an additional discretionary £1,500 for completing the programme. All scholarships are available for up to two years.
Initially established to support ratings studying for their first certificate of competency, Slater scholarships now also help electro-technical officers (ETOs), as well as yacht, workboat, tug and other crew looking to gain Standards of Training, Certification and Watchkeeping (STCW) certification.
Consideration is also given to those who already hold the Class 2 or Class 1 Fishing ticket and are looking to convert to the OOW Unlimited.
Applicants for Slater scholarships must be UK residents aged 21 years or older. Applicants must have accumulated all their necessary sea service before applying for the scholarship. This includes having a Notice of Eligibility (NoE) or being able to apply for it. Applicants do not need to have completed all the courses before applying for their NoE.
Applicants must hold a valid ENG1 certificate and intend to work at sea for the foreseeable future. They should also have a well-thought-out study plan of all the courses and exams they need to take and should have researched what college or course provider they might want to attend.
For further information and to find out how to apply, visit the Marine Society website
Ask the expert – pandemic queries
Q: I am a UK cadet who has not been able to do any sea time due to the pandemic, and now need to do 12 months at the end of my course. What options are available?
A: Hundreds of UK cadets were caught out by pandemic travel restrictions, which meant they could not complete their sea time.
To solve that problem, Nautilus has reached agreement with the UK Maritime and Coastguard Agency (MCA) and Merchant Navy Training Board (MNTB) to allow consecutive phasing of sea time.
Under the agreement, sea time should be no longer than five months at a time. Cadets should have readily-available free access to the internet and regular check-ups with the training provider, friends and family.
Cadets who are being consecutively phased will receive a minimum of one week's leave for every month onboard, which must be taken before they can join another vessel.
So, a cadet with 12 months of sea time needed to complete their training could do four months on and one month off in three stages. Talk to your training provider or college for further information.
Q: I have not been able to finish my course due to the pandemic and have run out of funding, what can I do?
A: Good news! The Maritime and Coastguard Agency (MCA) has extended its cadet funding by up to 12 months in total for cadets who can't complete their training and obtain their Certificate of Competency (CoC) within the 150-week SMarT funding period due to Covid restrictions. Funding extensions are available up to and including 31 October 2024.
There are several reasons to claim:
a delay has occurred in completing STCW safety courses, which were unavailable
a delay has occurred in obtaining seagoing service
a delay has occurred in completing an MCA-approved long course at college
a delay has occurred in completing MCA Written Exam Papers
Funding requests will be considered by the MCA on a case-by-case basis. Ask your sponsor company to apply.
---
Tags