Welfare
Herald of Free Enterprise chaplain honoured for 50 years of service to seafarers
30 January 2020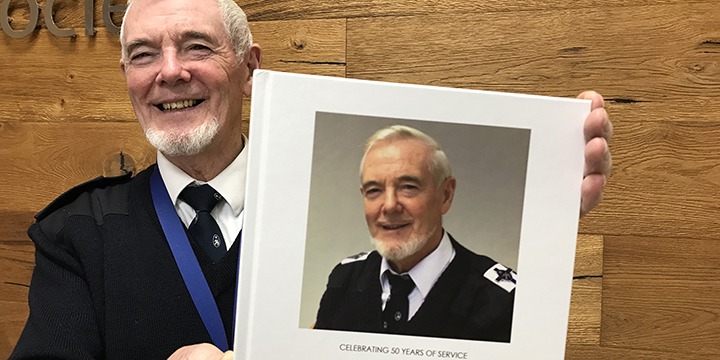 The Sailors' Society maritime welfare charity has honoured its chaplain Rev Bill McCrea with a celebratory event to mark his 50 years as a ship visitor.
Rev McCrea is best known for his work related to the Herald of Free Enterprise disaster on 6 March 1987, when the ro-ro ferry capsized en route to Dover, moments after leaving Zeebrugge port in Belgium.
Then based in the SE England county of Kent as chaplain to the Merchant Navy and sea training colleges, Rev McCrea took the funerals of four crew members and cared for their families in the aftermath of the disaster.
'I tremble every time I think of some of those situations,' he said. 'It was a terrible time for Dover and I don't think the city has ever fully recovered.'
However, he has also experienced 'great joy' in his long career, having reached out to more than 500,000 seafarers over the years. Despite formally retiring 14 years ago, he continues to visit seafarers every week in the port of Southampton, offering a warm welcome, a tune from his mouth organ, and practical support – from a listening ear to a lift to the seafarer centre or the doctor.
Before his retirement, Rev McCrea served as a full-time chaplain for 37 years in London, Kent, Belfast, Jamaica, Rotterdam, Antwerp, Houston and Southampton.
'I love the work,' he said. 'I believe you have to have a calling to it and, as I say every week when I go on the ships with my volunteers, every ship visit is different – no two are the same.'
Nautilus International general secretary Mark Dickinson congratulated the chaplain on his long service, saying: 'Bill McCrea was a valuable source of support to our members who were caught up in the Herald of Free Enterprise disaster, just as he has faithfully served thousands of other seafarers for decades. We would like to wish him well in the years to come as he continues to exemplify the best qualities of the maritime community.'
---
Tags