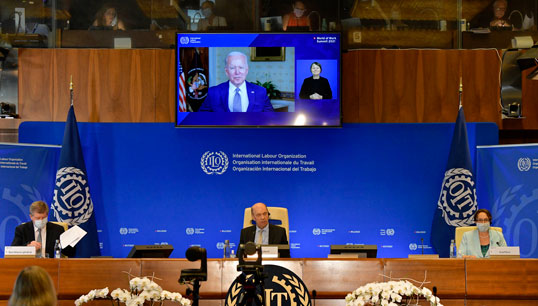 The International Labour Organisation (ILO) acknowledged the impact of Covid-19 on seafarers, as an agreement on pandemic recovery measures was reached at its 2021 global World of Work Summit.
A report to the 109th International Labour Conference (ILC) by ILO director-general Guy Ryder – Work in the Time of Covid – acknowledged those hardest hit by pandemic, including frontline workers such as seafarers.
'The world's two million strong maritime workforce has played a critical role in keeping global supply chains moving, but as a consequence has suffered from the seizing up of crew replacement procedures as a result of anti-Covid-19 restrictions,' he said in his report. 'At one point 400,000 seafarers were stranded on board vessels, some for up to 18 months, in dramatic conditions and without access to medical care.'
At the ILC delegates from 181 countries – representing governments, workers and employers – unanimously adopted a global call to action outlining measures for a 'human-centred' Covid-19 recovery. The agreement is grounded in the ILO's Centenary Declaration for the Future of Work, adopted at the 2019 ILC.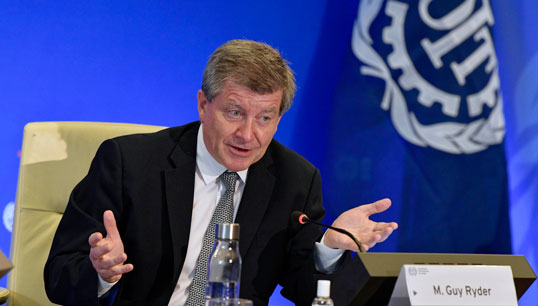 In his opening remarks to the 109th ILC, Mr Ryder said the pandemic had shown the world both how 'ill prepared' it was, and 'the consequences of the multiple and growing inequalities in our societies.'
'Unless we specifically address the inequalities that have deepened during this crisis there is a very real risk that the economic and social consequences will cause long-term scarring.'
The pandemic had also shown however, that 'long-established policy-settings and work arrangements could be modified in ways that were previously unimaginable… we have learned that we can handle technologies differently, allocate resources differently, reassess social priorities and values – for example how we reward the front-line workers who have emerged as the heroes of this crisis.'
The conference also heard from US President Joe Biden, who warned democracy was 'facing a test' from the rise of 'the autocrats of the world [who] believe democracy can't compete in the 21st century. They became emboldened and now they're coming after the rights of workers.
'As we emerge in this pandemic, that has exacerbated inequity and put even greater strain on working families, we have to prove that democracy can deliver.
'We do that by empowering workers, raising wages, standing up for union rights, holding bad actors everywhere accountable when they subject their citizens to forced labour or child labour, even as they seek positions of global leadership. And, centering workers in our trade policy, and building economies that bring everyone along.'
Mr Biden promised the summit that 'America stands with you as we work to deliver good jobs with dignity, and a strong equitable economy. '
---
Tags