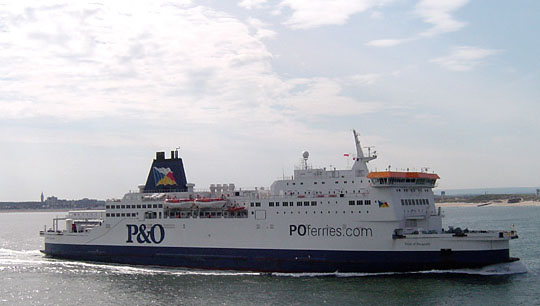 P&O Ferries is facing a potential industrial dispute over the planned use of agency staff to circumvent long standing arrangements in place since the late 1980's on the Dover-Calais route; at a time when stability and partnership is critical to its future success, Nautilus International has warned.
The Dubai-owned ferry operator wants to reintroduce its Pride of Burgundy vessel, with solely agency crew, on the Dover-Calais route. The company sought consent for a fatigue increasing working schedule in excess of the established safe rostering pattern. The vessel was initially mothballed during the pandemic when passenger numbers fell, with swinging onboard job losses.
Nautilus, the only union to resist the need for redundancies at P&O Ferries, maintained that operations would likely resume following removal of pandemic-related travel restrictions, and that job cuts would leave the operator exposed to short staffing, putting its vessels at risk from officer fatigue.
'The short sea Dover-Calais route crosses some of the busiest shipping lanes in the world and the intensive timetable and schedule of operations means that the watchkeeping officers and senior team are rarely away from standby duty and are consistently operating at a peak of their mental capacity,' Nautilus strategic organiser Martyn Gray said.
'We have steadily objected to the company utilising any officers operationally on the Dover-Calais route beyond schedules/rosters agreed in the Collective Bargaining Agreement (CBA). We have especially highlighted our concerns with respect to fatigue and safety.'
P&O Ferries is seeking to make unilateral changes to the working schedules/rostering on Pride of Burgundy, despite Schedule 8 of the Nautilus Collective Bargaining Agreement (CBA) confirming the vessel forms a part of the agreement. Nautilus believes this is placing at greater risk the safety of our members as well as each person onboard.
'We will continue our efforts to support the company in remaining a socially responsible, viable operator but cannot allow for safety to suffer,' Mr Gray said. 'P&O Ferries should adhere to the established agreements and scheduling patterns, else it risks a dispute at a time where industrial stability and partnership is critical to its future success.'
Nautilus members can keep abreast of latest developments at: www.nautilusint.org
---
Tags