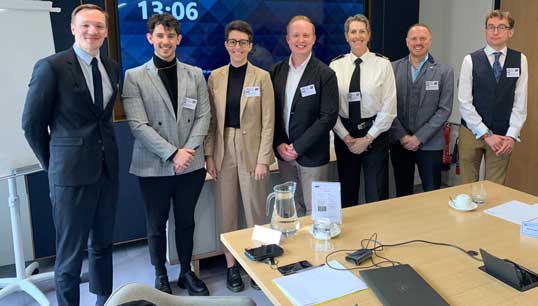 The UK's first national Pride in Maritime Day was launched by Maritime UK – the umbrella body for the maritime sector – on Monday 28 February with a focus on some of the progress and best practices helping break down diversity barriers in the industry.
Welcomed by participants as 'inspirational', Pride in Maritime Day is an initiative driven by the Pride in Maritime Network, within Maritime UK's Diversity in Maritime programme. It will become an annual event coinciding with LGBT+ History Month. The first hybrid event featured a live-streamed panel discussion hosted by Associated British Ports and attracted more than 35 participants. It was moderated by the Pride in Maritime chair, Danny McGowan, who is the international organiser at Nautilus International.
Panellists were drawn from across the maritime industry, including shipping, maritime charities and the (UK) Royal Navy. They included Commodore Melanie Robinson, one of the most senior women in the Royal Navy, and ABP's group risk practitioner Alex Roscoe, as well as Daisy Rayner, head of legal at Shipowners' Club; Neal Somerville, RNLI Ireland's face to face manager; Gwilym Stone, assistant director ship standards at the Maritime and Coastguard Agency (MCA); and Kian Goodsell, of The Seafarers' Charity.
The panel discussed some of the progress and best practices being employed to ensure maritime is welcoming for the LGBT+ community. These included ideas for a 'coming out' toolkit and insights into the Royal Navy's Compass umbrella diversity network and its mentoring scheme, which has established diversity champions for gender, LGBT+ and race. The RNLI's ambassador programme includes an LGBT+ friendly accreditation programme being rolled out at RNLI stations. The meeting also heard about the types of equality and diversity policies being adopted across some maritime organisations. Some of the panel shared their lived personal experiences of working in the maritime sector. They agreed the importance of senior leadership buy-in for progress and the need for allyship from other employees.
Mr McGowan commented: 'I'm proud to lead the conversation on the first Pride in Maritime Day here in the UK, and proud that Nautilus International has long supported LGBT+ equality in maritime. Our industry faces many challenges in the modern world but the importance of LGBT+ equality and diversity cannot be underestimated. I hope that LGBT+ people and their allies working in maritime will be able to use this day as a catalyst to develop conversations in their own areas, to ensure that our industry can truly be one that is welcoming to everyone.'
Maritime minister Robert Courts also sent a message of support: 'Diversity is vital to the success of any sector, and I am immensely proud of the progress being made in support of the LGBT+ community in maritime. Pride in Maritime Day will help break down barriers, which is critical to achieving our Maritime 2050 vision of building a workforce that is dynamic, inclusive and open to all.'
Head of diversity and operations at Maritime UK Chrissie Clarke said: 'Maritime UK is committed to ensuring the sector is welcoming to the LGBT+ community. Pride in Maritime Day will be an annual celebration to share progress and shine a strong spotlight on what barriers need to be removed for our current and future LGBT+ employees.'
---
Tags