Community
ITF issues scam warning to jobseekers about ABL Shipping Ltd and Maritime Centre UK
8 January 2021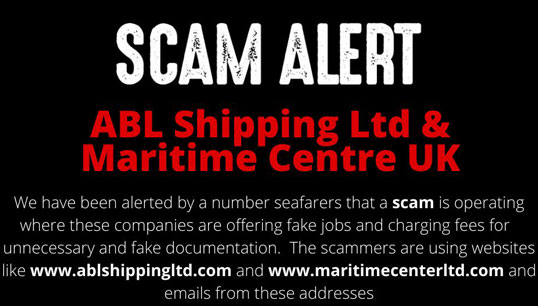 The International Transport Workers Federation (ITF) is warning seafarers about two websites that scam people who are looking for work.
Seafarers visiting www.ablshippingltd.com and www.maritimecenterltd.com have been asked to apply for jobs that do not exist, according to the ITF. The websites appear to be for legitimate operations registered in the UK, and ABL Shipping also has social media accounts on Facebook and LinkedIn.
When a seafarer applies for a job at one of these websites they are asked to complete an interview form and submit personal documents.
The scammers request $550 for a European Union Seafarers Certificate – this is a non-existent piece of documentation – and then a further $3,000 as a Travel Subsistence Allowance fee, which they falsely claim is required for a UK work permit.
After this the scammers cut contact with the applicant.
Seafarers who are concerned about a job offer should email jobscam@itf.org.uk before handing over documents, personal details or money.
---
Tags