Health and safety
Maritime Minister pays tribute to pandemic role of pilots during Maritime Safety Week
6 July 2021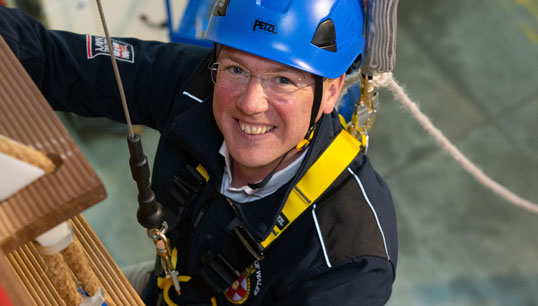 UK shipping minister Robert Courts kicked off Maritime Safety Week by learning the physical rigours of boarding procedures used by pilots and praised their vital role during Covid-19 in keeping port trade flowing.
The key objectives for Maritime Safety Week 2021 are to recognise excellent safety work that already goes on; focus on specific challenges, such as drowning prevention; facilitate the sharing of knowledge, experience and best practice; and deliver key safety messages.
To mark this year's safety theme, Mr Courts climbed a ladder used by the Port of London Authority (PLA) to train employees who board commercial vessels, in all weathers, to ensure they have a safe passage up and down the Thames estuary.
He also met some of the PLA's newest pilot trainees during his Gravesend, Kent visit. The pilots are being recruited to ensure the Authority can continue to provide a high level of service to customers. The trainee pilots and apprentices from a range of disciplines, as well as other trainees, are funded by the Government's Kickstart programme.
The minister commented: 'At the start of Maritime Safety Week [5-9 July], it was great to meet the pilots and other PLA staff, who have played such a vital role in keeping the river open for trade throughout the pandemic.
'Thanks to them and their counterparts at ports around the country, ever since Covid-19 first hit, supermarkets shelves have been regularly replenished, and other vital commodities, such as fuel and medical supplies, have not run short.
'Learning about the physical rigours pilots boarding and disembarking from ships have to endure, come rain or shine, was a real eye-opener. It was reassuring to see the high priority the PLA gives to the safety of its staff, on the water and on land.'
Chief executive of the PLA Robin Mortimer said: 'The safety of our employees and all river users is fundamental for us. It's the non-negotiable bedrock of how we operate.
'Maritime Safety Week is a vital annual reminder of why preventing even small mishaps is so important.'
---
Tags