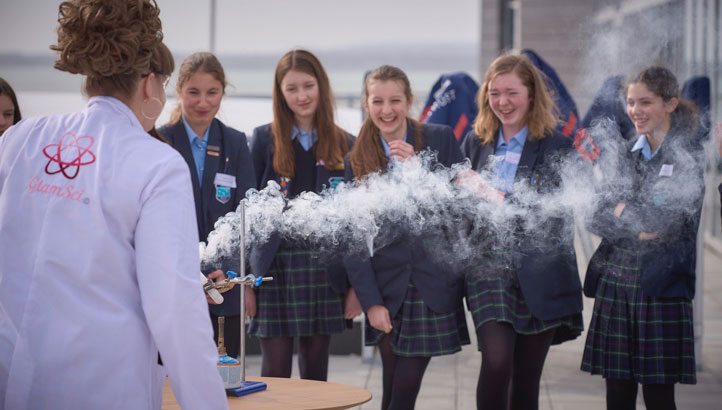 A series of maritime roadshows for girls to encourage more interest in Science, Technology, Engineering and Maths (STEM) subjects in schools has been revived by Maritime UK.
Aimed at UK female pupils aged 11 to 14 , the roadshows aim to inspire Key Stage 3 girls to choose STEM subjects and to give the students greater awareness of career opportunities across the maritime industry.
Maritime UK is building upon previous activity by the 1851 Trust, which ran similar roadshows in a UK government-backed programme in 2019. The previous series saw 1,400 girls from 90 schools taking part, an impressive 70% of whom said that they felt inspired to think differently about their future careers.
Maritime UK has now been awarded £100,000 in grant funding from the Merchant Navy Welfare Board on behalf of the Department for Transport (DfT) to deliver the Maritime Roadshow for Girls each month throughout 2023.
The successful format of the previous shows where female pupils are brought to a maritime hub is continuing. Girls taking part in the roadshows will be hosted on site in various locations such as ports and on vessel visits to see how the maritime industry works, with various insights planned – such as programming an autonomous vessel, and looking at loading vessels and stability.
The roadshows also include a series of 'speed-networking' events where Maritime UK Industry Ambassadors will be available to answer pupil's questions. The first one will be held in Hull during National Careers Week on 7 March, a day ahead of the United Nation's International Women's Day.
Each event will have between 100 and 125 students and will have follow up resources for teachers, and key metrics monitored.
Other 2023 roadshow locations planned in the UK include Liverpool, Aberdeen, Cornwall, Fleetwood, Southampton, Wales, London, Belfast, Barrow, and the Midlands.
Maritime UK's roadshows for girls are still looking for volunteers from industry maritime professionals, either for sponsoring or taking part at the speed-networking events.
DfT's latest investment is part of its mission to delivering Maritime 2050 goals and builds upon work to establish the Maritime Skills Commission, Diversity in Maritime Taskforce, and Careers Taskforce in partnership with Maritime UK. The shows represent a major push by the UK government to even up the gender balance in the shipping industry.
---
Tags