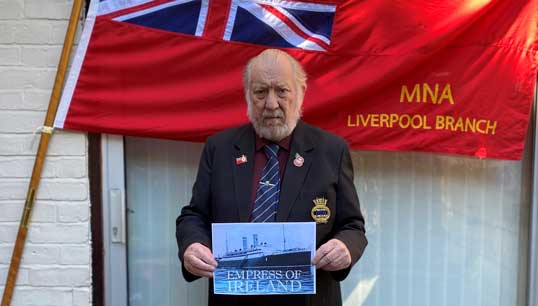 The sad news of the sudden death last week of former RMT official Bill Anderson has reached Nautilus International. General secretary Mark Dickinson who worked with Bill over many years recalls with fondness his dedication.
'Bill was a real character, a determined campaigner, who will be sadly missed. He was a major contributor to the success of the campaign to find out the truth about the loss of MV Derbyshire and was honoured for his work with a Merchant Navy Medal.'
Mr Anderson, aged 70, was well known for his campaigning throughout the maritime industry. He died on Friday 16 October 2020 shortly after contracting Covid-19.
Mr Anderson was also for a period the chair of the Liverpool Merseyside branch of the Merchant Navy Association. He was instrumental launching an appeal for a Liverpool Battle of the Atlantic Memorial, dedicated to all combatants, men and women of all nationalities.
He was born in Kent Gardens, Liverpool, one of six children to Kathleen and Joseph Anderson. Like his father before him, Mr Anderson became a Bosun in the Merchant Navy at the age of about 27. His deck career covered long round the world trips, up to 18 months at sea, on a range of commercial vessels including tankers and general cargo ships.
In 1990, he came ashore to work for the National Union of Seamen. His shoreside career also included a secondment to the International Transport Workers' Federation as an FOC inspector in the port of Liverpool.
His second Cousin Terry Anderson, who also worked at sea as a chef, said the Merchant Navy owed 'quite the debt' to Bill Anderson.
'Billy was a dream to be with, he believed in the rights of seafarers and in getting justice for them and would bend over backwards to help you.'
Chair of the Liverpool Pilots Kevin Walsh summed up: 'The best eulogy I can express is that apart from being one of the nicest people you could meet. Billy was what I would call a "proper shipmate" in every sense of the word.'
Mr Anderson is survived by his wife Jenny, his son Joseph, and two grandchildren. His son Carl died of leukaemia.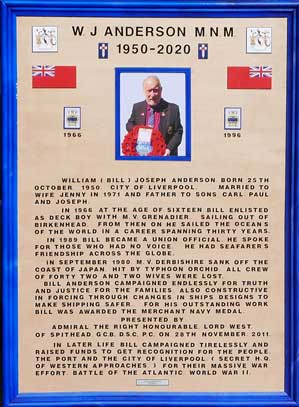 Campaigner remembered
Former Merchant Navy Medal awardee Bill Anderson had his lifetime of service remembered posthumously in an honours board in the Liverpool Seafarers' Centre. Unveiled in December 2021 by Mr Anderson's widow Jenny and politician brother Joe, the board recognises the late bosun's tireless work for the Derbyshire families and Merchant Navy veterans.
---
Tags