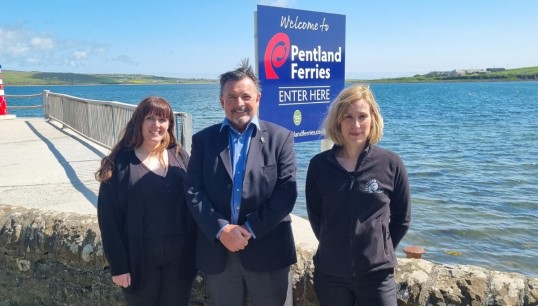 Nautilus International has signed a collective bargaining agreement (CBA) with Pentland Ferries, in order to represent members currently serving onboard the MV Pentalina and MV Alfred.
The CBA will remain in place for at least three years and means that Nautilus is now the recognised trade union for maritime professionals at the company including ships masters, officers, cadets, shoreside personnel and industry workers.
The Union will negotiate with Pentland Ferries on pay and conditions and also offers members legal services, workplace support, certificate protection and international representation.
Nautilus head of Organising Garry Elliott commented that as the union representing maritime professionals, Nautilus believes it is essential for our members to be organised so that we can ensure they continue to be fully supported and represented at work.
Earlier this year, Pentland Ferries approached Nautilus International Union to discuss support and representation of employees and also our members, who had intimated to the union that they wished us to engage on their behalf with the employer. These discussions have now progressed and resulted in the signing of a collective bargaining agreement and the union looks forward to the opportunity to represent members, working constructively with Pentland Ferries over the next three years regarding both pay and the terms and conditions of employment.'
The company has now informed its employees about the CBA. Commenting on the arrangement, Pentland Ferries managing director Helen Inkster said: 'The company is looking forward to working collaboratively with Nautilus International for the benefit of the company and employees to future proof our services.
'We see this as great opportunity to develop a relationship of partnership and cooperative working to ensure the company's seagoing and shoreside employees have access to representation and guidance on all matters of employment.'
---
Tags