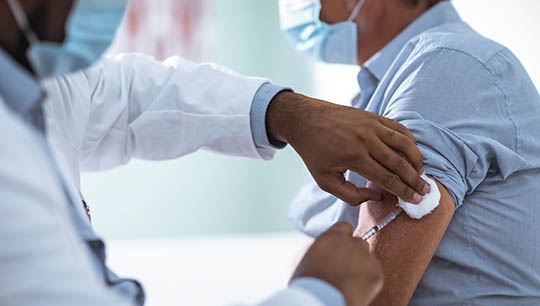 Nautilus International is urging the UK government to waive certain medical patents to ensure greater access to Covid-19 vaccines worldwide, particularly in the global south.
In a letter addressed to prime minister Boris Johnson and maritime minister Robert Courts, Nautilus general secretary Mark Dickinson calls on the UK to back a waiver of the usual patent rights offered under the World Trade Organization's TRIPS agreement (Agreement on Trade-Related Aspects of Intellectual Property Rights) in order to help increase manufacturing and access to Covid vaccines around the world.
Studies from the UK, Southeast Asia and Latin America have shown that workers transporting people and goods are at a heightened risk of contracting serious Covid infections and are much more likely to die.
Alongside this, the pandemic has had a serious impact on the welfare of key transport workers travelling across international borders. At the start of the year, for example, an estimated 400,000 seafarers were left stranded on ships, working long past the end of their contracts and unable to be repatriated. The failure to tackle the pandemic globally further exposes these transport workers and puts supply chains at risk.
The UK would be following the example of countries like South Africa and India, whose TRIPS waiver proposal would temporarily suspend intellectual property restrictions, removing a major roadblock in the sharing of vaccine technologies. The waiver is restricted to Covid-19 and is limited in time to a minimum of three years with regular reviews.
Nautilus calls on the UK government to:
reach an urgent agreement on a waiver of intellectual property rules of the TRIPS council in October, so that all qualified manufacturers, especially those in developing countries, are able to produce Covid vaccines

make legally binding commitments to share vaccine doses immediately, so that the most vulnerable and those working on the front line, including transport workers in or from developing countries, are protected

use every power available to make it a requirement for pharmaceutical companies to share technology and know-how with the C-TAP and the mRNA Hub in South Africa and ensure that there is enough funding to make the technology transfer
---
Tags