Welfare
Nautilus caseworker in Tyne and Wear receives accolade for 'exceptional dedication' to maritime community
6 October 2023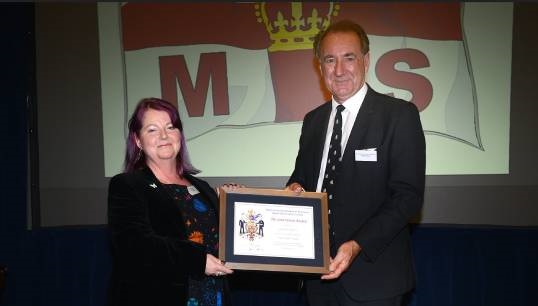 Gwen Rayner, the Nautilus Welfare Fund caseworker serving the Tyne and Wear area, has received the Lord Lewin Award for outstanding service to the community from the Shipwrecked Mariners' Society.
Ms Rayner has been the Society's honorary agent in Tyne and Wear – in addition to her main role as a Nautilus caseworker in the area – since the service started in there in 2021. She is one of six caseworkers for the Nautilus service which started in the UK in 2010.
In putting her forward for the award the Society described her as 'extremely committed to supporting us in whatever way she can... Gwen always responds quickly and efficiently to any requests for support. Her applications are consistently well written, providing the grants team with an excellent understanding of the immediate need, but also the contextual background to the case. She has a really good understanding of the people she works with and shows empathy and compassion to all those she encounters.
'Gwen regularly goes above and beyond to ensure each individual is in receipt of all the benefits they are entitled to while also signposting them to other services they may need including debt service.
'As such Gwen is highly deserving of an award to recognise her dedicated service and exceptional commitment to the maritime community.'
Ms Rayner said: 'It came as a shock, but certainly a lovely surprise to be awarded the Lord Lewin award. The Society have always been extremely supportive of my requests for grants, which has been life changing to the seafarers we have supported.'
Her role involves networking with other maritime organisations and others to publicise the caseworker service. She also receives referrals from the Society for new clients and helps review their regular grant applicants.
Each seafarer referred receives a home visit and a full confidential assessment of their financial and social concerns and their benefits and other service entitlements, as well as help with completing any applications.
Ms Rayner also conducts regular welfare calls and visits particularly for those who have life limiting health issues, mental health issues, learning disabilities, or sensory impairment issues.
Where appropriate the caseworker will refer the seafarer to other services, with the client's permission.
In one typical case, the widow of a seafarer appreciated the support given to her by the service after her husband's passing, through access to increased state pensions, and to other pension credit, council tax and housing benefits.
Ms Rayner said: 'She appreciated knowing the maritime community still supported her in her hour of need. It was certainly a privilege to know we supported her at her most distressing times.'
---
Tags