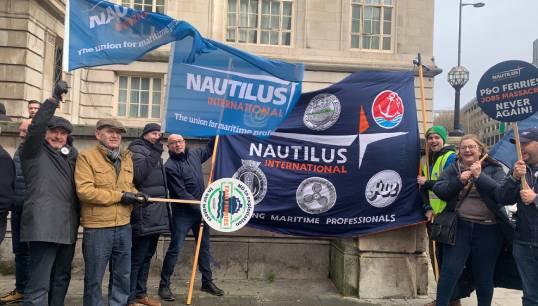 On Wednesday 1 February Nautilus International joined thousands of people across the UK as part of the Trades Union Congress (TUC) 'Day of Action' protesting against the government's proposed anti-strike legislation.
Nautilus International strongly opposes the Strikes (Minimum Service Levels) Bill, which would give the Secretary of State sweeping powers to restrict the right to strike of maritime professionals, preventing them from engaging in legitimate action in pursuit of fair pay and working conditions. It could also result in workers being sacked for taking strike action that has been agreed in a democratic ballot.
The Union participated in the 'Defend the Right to Strike March' in Liverpool alongside other trade unions including the National Union of Rail, Maritime and Transport Workers and the National Education Union. Rallies were held in several other UK cities, on a day that also saw the biggest mass strike action for a decade.
The Liverpool march proceeded from the Metropolitan Cathedral to the Adelphi hotel, where an indoor rally was held.
Nautilus executive officer Martyn Gray said:'The rights of working people are under attack by a government that wants to legislate because it won't negotiate. We're at this march, nearly a year on from P&O Ferries' mass sacking of 786 seafarers, to remind the government of its promises to improve workers' rights and protections. We're also here to stand up for the rights of all working people, as well as the maritime professionals we represent – which includes the right to withdraw their labour.'
---
Tags