Nautilus news
Nautilus members: join us at the Union's 2023 General Meeting on the maritime Just Transition
12 May 2023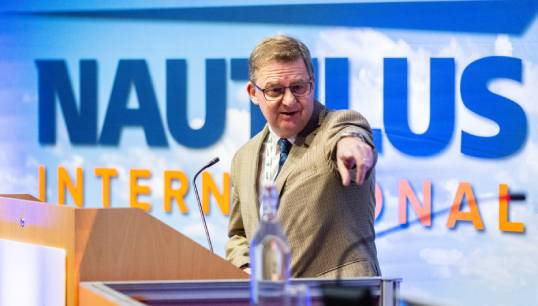 We are excited to invite members to join in the 2023 Nautilus International General Meeting, taking place from 23 to 25 October 2023 in Liverpool and online.
The theme of this year's meeting is Charting a Just Transition. How can we ensure a fair and sustainable future for seafarers and the maritime industry in the face of climate change, digitalisation and globalisation?
The General Meeting is a unique opportunity for you to connect with fellow members, learn from experts, and have your say on the key issues affecting your profession and sector. You will also get to vote on important motions and resolutions that will shape the direction and priorities of Nautilus International for the next four years.
Some of the highlights of the 2023 General Meeting will be:
a keynote speech by Martha Selwyn of the United Nations Global Compact (UNGC) on the role of social dialogue in achieving a maritime Just Transition
panel discussions with representatives from trade unions,governments and civil society on the challenges and opportunities of decarbonising shipping, including seafarers' safety, and skills and training
member networking where you can meet and chat with other members from different regions and sectors
To register for the 2023 General Meeting, please fill out the online form.
Further details will be shared with registered delegates to confirm arrangements.
Don't miss this chance to be part of the conversation and make a difference for yourself and your colleagues. Register today and join us for the 2023 General Meeting!
Follow this story
Nautilus news

Nautilus news
---
Tags