A major new exhibition celebrating the work of female seafarers was launched on the first day of London International Shipping Week 2023.
Hosted by the International Maritime Organization (IMO) in central London, the She Sees exhibition is part of Rewriting Women into Maritime History, a cross-industry project led by the Lloyd's Register Foundation which tells the stories of maritime women past and present.
Nautilus is one of the partners in Rewriting Women, and has contributed three stories of female 'officer pioneers of the 1970s'. These are deck officer Linda Craig Forbes, engineer officer Marion Pettigrew and radio officer Rose King, who were among the first women to join the Nautilus predecessor unions MNAOA and REOU.
Several of today's Nautilus members have also come forward to take part in the Rewriting Women project, and the She Sees exhibition includes a photograph of Nautilus Council member Captain Jessica Tyson at work.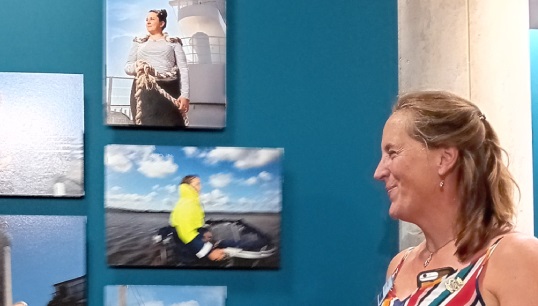 IMO secretary-general Kitack Lim opened the exhibition at a very well-attended launch event on Monday 11 September. This exceptional gathering saw reunions of female colleagues and provided an opportunity for maritime women from different sectors – including law, fishing and education – to share their experiences.
The She Sees exhibition will continue to be on display for visitors to the IMO headquarters on London's Albert Embankment, and there is also an online version of the exhibition.
Meanwhile, Rewriting Women into Maritime History is soon to enter a new phase. Having first focused on telling the stories of UK maritime women, the project is to expand internationally, and Nautilus will be seeking contributions from its branches in the Netherlands and Switzerland, as well as further input from Britain and Ireland.
---
Tags