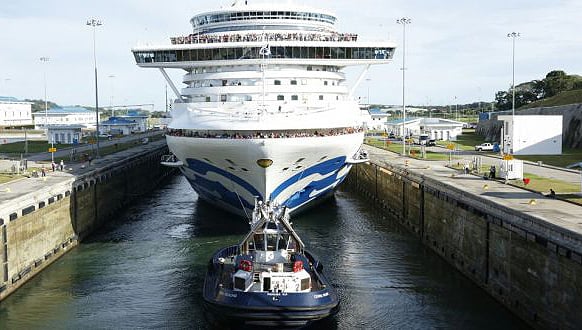 Nautilus International has protested to the Panamanian Embassy in London over concerns that cuts could compromise safety in the Panama Canal.
In a letter to Panama's ambassador to the UK, general secretary Mark Dickinson said he was alarmed by a recent move to reduce the number of deckhands serving on tugs assisting ships in the new Neopanamax locks.
The decision to remove one of three deckhands serving on lead tugs in the expanded locks was made by the Panama Canal Authority (ACP) with no consultation with the tug crews and has been condemned by the International Transport Workers' Federation. ACP also threatened to dismiss tug captains who protested against the move.
Mr Dickinson said the developments raise concerns over the health and safety of individual seafarers, as well as for the safety of shipping transiting the waterway. The reduced crewing adds to stress and fatigue, he pointed out, and compromises safety during potentially dangerous operations to handle towing lines and operate winches.
'Any accident in the locks has the potential to create significant economic damage, as well as possible environmental hazards should a dangerous cargo or ship fuel be spilled,' he wrote. 'The volume of traffic now using the expanded waterway is extremely high and disruption to vessel traffic would have serious wider consequences to international trade.'
Calling for the Panamanian government to ensure that ACP enters into 'constructive dialogue' with maritime unions, Mr Dickinson added: 'For the safety of all ships and all seafarers passing through the Canal, it is essential that operational standards are maintained at the highest levels.'
---
Tags