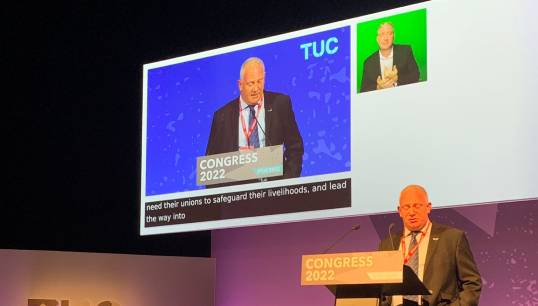 A Nautilus International campaign to ensure a fair deal for seafarers and all other workers as the world tries to meet its global decarbonisation goals has won support at TUC Congress 2022.
The composite motion on a 'Just Transition', proposed by Unite and seconded by the Union, highlights that the shift towards decarbonisation in the maritime industry must have people at its heart, with quality employment and training opportunities.
First time delegate and Nautilus member Phil Lees told Congress that 'decarbonisation is one of the greatest challenges and one of the greatest opportunities for working people in the United Kingdom'.
However, although the UK government has promised nearly half a million high-skilled and well-paid green jobs by 2030, details are overdue as to exactly what these jobs are and where they are going to be, he said. Such investment should support communities and the economy, and safeguard much-needed sustainability that would support generations to come.
'Now is the time for investment in both infrastructure and skills that reduce and eventually halt harmful increases in greenhouse gases. But we have no clear focus on what up-skilling and re-skilling looks like, or how policy will deliver sustainable high-quality employment opportunities,' said Mr Lees.
'We need a model that puts working people with sustainable jobs, with dignity and safety, respect and value, at the forefront. This is what a truly just transition looks to be.
'In seafaring we look to ensure that emerging technology is in place and implemented safely so as not to place already vulnerable workers at even greater risk. '
---
Tags