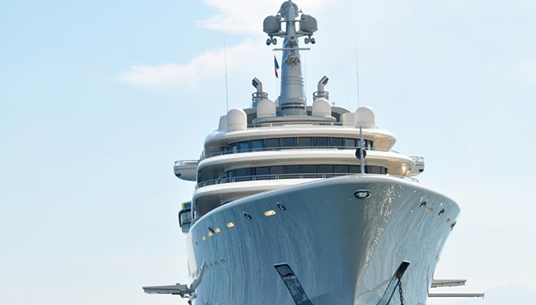 Nautilus members working on one of the world's best-known superyachts – MV Eclipse – have approached the Union with concerns about non-payment of wages.
Their employer Roman Abramovich is currently under UK government sanctions due to his links with the Russian regime that has invaded Ukraine.
The Union has no previous issues with non-payment of wages involving Mr Abramovich's yachts, but delayed and withheld payments have become an issue on many sanctioned vessels, as banks and financial organisations are wary of potentially breaching sanctions and have increased their compliance checks.
External service provisions have been impacted, and even the supply of fuel and equipment has reduced or ceased. Some yachts have lost their class and are required to secure this, along with new insurance and potentially a transfer of flag registration, which is seemingly not a straightforward process.
Following an enquiry from Nautilus, the UK Department for Transport has clarified that seafarers working onboard a sanctioned vessel are not themselves within the scope of the sanctions regulations that the UK government is applying to Russian superyachts. However, the Union is advising members to be mindful that, whilst their employment may not be prohibited, they could still have issues with salary payments and provisions being supplied to the yachts.
The situation is also continually evolving, as sanctions lists can be extended with little notice. The UK, EU and USA have their own sanctions and will implement these differently, and sanctions can be amended and extended at any time.
'We stand ready to ensure our members receive the money they have earned,' said Nautilus head of yacht section Derek Byrne. 'We would urge members to contact us as soon as a problem arises, and for those yacht crew not yet in membership to join us. Nautilus has long experience in dealing with unpaid wages – we have reclaimed £1.6 million for yacht members over the past two years – and we continue to assist our members following the invasion of Ukraine. With the latest surge in Union membership, it is evident that crew are seeking security in a time of uncertainty.'
---
Tags