Campaigning
P&O Ferries: Nautilus to lobby against loopholes in new UK minimum wage legislation
7 July 2022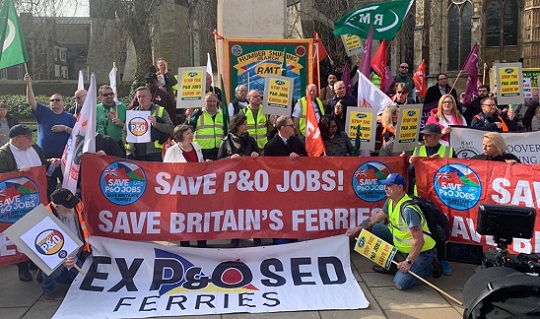 The UK government has introduced new legislation in the House of Lords to ensure seafarers working from UK ports receive at least equivalent to the National Minimum Wage (NMW).
The Seafarers' Wages Bill will allow port authorities to impose a surcharge on – or deny access to – vessels calling regularly at UK ports which do not pay seafarers the appropriate rate for the work they undertake in UK territorial waters.
This will apply to vessels calling at a UK port at least every 72 hours on average, or more than 120 times a year.
The legislation is progressing despite the current upheaval in the UK government.
'Nautilus International welcomes the promised action on the minimum wage. However, there are loopholes within the bill that must be addressed if it is to meaningfully support fair pay at sea. For example, there are questions about whether harbour authorities are the appropriate bodies to enforce the NMW for seafarers given that many harbours are run by the same companies they should be policing,' said Nautilus executive officer Martyn Gray.
'Under the bill as written, harbour authorities are not even required to ask services for data on seafarer pay – this builds in ambiguity and doesn't put pressure on any particular operator if they aren't requested to comply. Services that operate less frequently from UK ports will also not be covered by the bill.
'While this bill is a good beginning, we will be strongly lobbying for improvements as it progresses through parliament. Furthermore, the government must take robust action to improve employee protections – as suggested in our Fair Ferries strategy – if we are to prevent another jobs massacre like the one perpetrated by P&O Ferries.'
Action on the minimum wage one of the nine points promised by the then Secretary of State for Transport Grant Shapps on 30 March, in response to the actions of P&O Ferries, which sacked its entire UK workforce and replaced them with agency workers often being paid less than the £9.50 per hour required for other workers.
Maritime minister Robert Courts said: 'Fair pay for seafarers is a must and the new laws we've introduced in Parliament today send a clear signal to operators that the UK will not let seafarers be priced out of their jobs by rogue bosses.'
Labour Markets Minister Paul Scully added that the UK government continues to consult with nearby countries on bilateral agreements to improve protections for seafarers and create 'minimum wage corridors'.
---
Tags