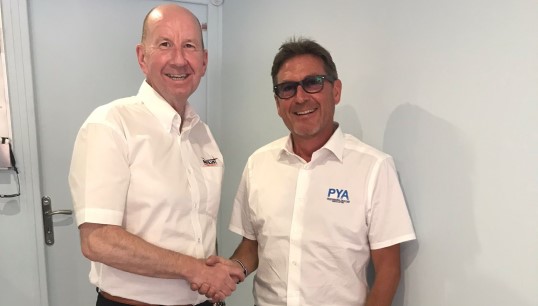 Nautilus International met with representatives of the Professional Yachting Association (PYA) in Antibes this September, as the two organisations seek to re-energise a strategic partnership signed fifteen years ago.
Nautilus senior national organiser Garry Elliot, head of yacht sector Derek Byrne, and Nautilus Honorary Delegate, Jorg Wendt met with PYA CEO, Christophe Bourillon and other PYA representatives during the week of the Monaco Yacht Show.
Nautilus is the International Labour Organization (ILO)-recognised union for the yacht sector worldwide, also offering legal support and fast sea time verification services in an average seven days to its members, and has a fast-growing membership in the yacht sector – growing 250% year on year. The PYA represents businesses in the sector, as well as offering verification services for individuals.
Nautilus and the PYA are the two sole providers of sea time verification worldwide, on behalf of the Maritime and Coastguard Agency (MCA).
'Our meeting came about because of the MCA's requirement for sea time verification to be administered in a consistent way,' Mr Byrne said. 'The MCA has made it clear to us that it is happy with two providers, and we have now confirmed with the PYA that we will collaborate to achieve that consistency while continuing to offer our own sea time verification services.'
Mr Byrne said that the discussion was positive and expressed hope for wider cooperation in future for the benefit of members, with a focus on industry-wide issues that will affect yacht crew and on building international influence.
While in the South of France, the Nautilus officials also visited the Monaco Yacht Show in the company of Mr Wendt, who maintains the Union's office in Antibes. Members are encouraged to drop in at the office to discuss any issues that they may have.
Although pandemic restrictions meant that many crew remained aboard, the officials were nevertheless able to have positive meetings with yacht crew during the week.
---
Tags