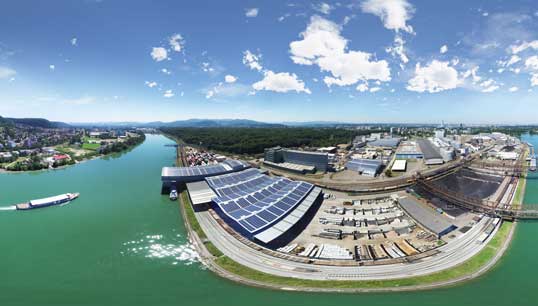 A comprehensive new book on Switzerland's role as an important maritime nation contains a chapter on inland navigation with contributions from Nautilus International.
'Switzerland as a maritime nation. From flag dwarf to shipping giant' (German only) is written by former professor of criminal law at Basel University Mark Pieth and attorney Kathrin Betz. Together they outline the crisis facing the Swiss fleet under its own flag.
Nautilus Switzerland national organiser Holger Schatz said: 'Nautilus welcomes the publication of this book, as it outlines some of the issues with the Swiss flag that we have been campaigning on, as part of our efforts to support the reorientation of the flag.'
The Union launched a campaign launch in support of the Swiss flag at its branch conference and symposium in October 2021, and has since contributed to a Swiss government review.
The new book provides a useful roll up of the history of Switzerland as a maritime nation –: looking at the reason for its attractiveness as a shipping location; the financing and construction of ships; working at sea; environmental conflicts; and the scrapping of the official role of Switzerland.
Switzerland is the fourth largest shipping location in Europe. As an important maritime nation – reinforced by the ships under the control of local commodity traders and also as a flag state in river cruising – Switzerland is involved in all the problem areas of shipping such as the environmental and human consequences of ship scrapping on beaches.
However, the book highlights that seafaring is mainly regulated by the flag states and around 90% of the ships operated by Swiss shipowners are registered in Panama, the Marshall Islands or Liberia.
The authors also point out that globalisation on today's scale would not be possible without seafaring, but the price is high: They warn that seafaring is on a 'collision course with the environment: it is still dangerous [work], and crews in maritime and inland shipping often work under precarious conditions'.
The authors say it is urgent that Switzerland raises its voice within international bodies 'in order to tackle the problems of shipping instead of turning a blind eye and making its territory available to problem companies'.
German speaking Nautilus members can get the book with a 20% discount from the Swiss branch office. Get in touch.
---
Tags