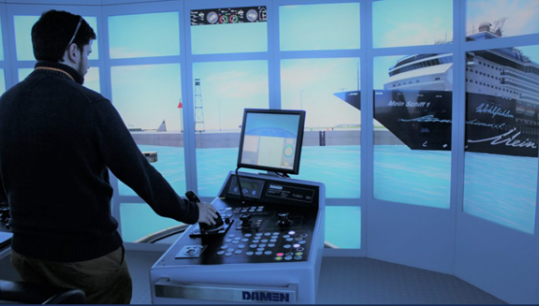 The Maritime Skills Academy in Portsmouth is to add a new 360-degree tug boat simulator to assist with training.
The new addition is intended to fully integrate the institution's existing simulator facilities, so that tug operations can be combined with ship handling courses. The MSA already has a 270-degree NACOS platinum bridge with integrated bridge wings and a connected safety centre, plus an engine simulation suite with control room, main switch board, high voltage and three virtual machinery spaces.
The new simulator features Rolls Royce controls and electronics and Damen hardware winch controls. It can replicate all types of tug, including conventional single-screw tugs, conventional twin-screw tugs, cycloid-drive (Voith-Schneider) tractor tugs and Z-drive reverse tractor drive.
It can be used for training for offshore tugging and towing, ship assistance work, high-speed escort work, anchor equipment operation, oil rig and platform moves, and integrated tug master and pilot training.
---
Tags