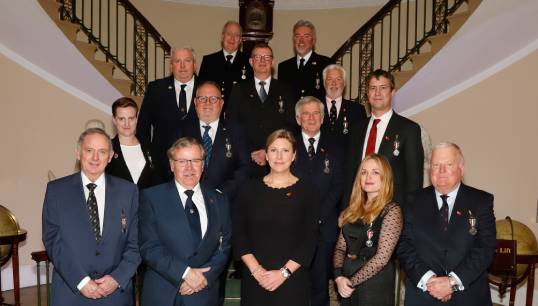 Do you know someone who is serving or has served in the UK Merchant Navy or Fishing Fleets, and who has made an exceptional contribution to the maritime industry?
Now is your chance to celebrate them with a nomination for the 2023 Merchant Navy Medal for Meritorious Service – a prestigious UK state honour recognising exceptional contributions in maritime.
Nautilus members are invited, along with all seafarers, to send in their nominations for the Medal. Awards are made annually – without bias towards age or rank – to those eligible seafarers who are judged to have made a worthwhile contribution to merchant shipping, its operations, development, personnel, welfare, safety, or who have performed an act of courage afloat.
The state award is administered by the Department for Transport (DfT) through a Royal Warrant signed by the then Queen in 2015, while industry liaison is channelled through the Merchant Navy Honours Consultative Committee (MNHCC). This committee, which includes organisations across the maritime sector, is spearheaded by the Merchant Navy Welfare Board (MNWB), the umbrella charity for the UK Merchant Navy and fishing fleets based in Southampton.
Eligibility for the medal is limited to those who have served, or are serving, in the Merchant Navy or Fishing Fleets of the United Kingdom, Isle of Man, the Channel Islands and the British overseas territories and have shown devotion to duty and exemplary service, which has been of particular value and has constituted an outstanding example to others.
Recipients of the medal will normally be required to have completed 20 years' good conduct and exemplary service, although in exceptional circumstances the period of service may be less.
Anyone may make a nomination but it needs to be completed and emailed to the DfT before 31 May to be considered for the 2023 award. It is not possible to nominate yourself.
Complete the nomination form and view the guidance notes here.
---
Tags