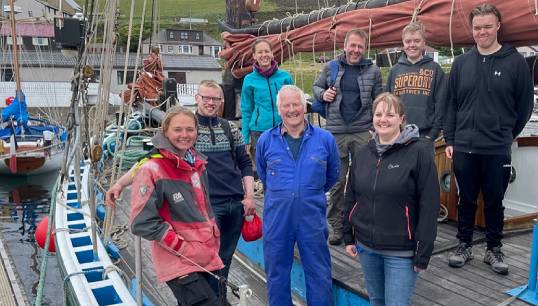 The maritime volunteers in who keep the UK historic fleet alive have been celebrated at the 2022 National Historic Ships UK awards.
Now in their 12th year, the Marsh Volunteer Awards recognise the huge contribution by many individuals and groups who conserve or operate historic vessels in the UK.
The awards were live-streamed on 22 November from the Historic Dockyard Chatham, which was also launched as the National Historic Ships UK network's newest Shipshape Network Hub for the southeast of the UK.
The Individual Marsh Volunteer Award was presented to Ian Nicolson from The Swan Trust (Shetland). Mr Nicolson has become indispensable to the Trust he volunteers with, taking responsibility for all aspects of maintenance and repair of the Swan – a historic fishing vessel launched in 1900. He recently went above and beyond the call of duty when he made a trip to the vessel every day for over two months to pump it out when it developed a persistent leak.
Mr Nicolson said: 'My reward is seeing the look on a schoolchild's face as they take the helm, or adults who gel together as a team after a week of journeying and then seeing friendships flourish long after a sail. Over the years a great many schoolchildren have sailed on the Swan, and many have gone on to take part as trainees in tall ships races and [taken up] marine careers all around the world.'
The Marsh Group Volunteer Award was shared by two winners this year. The first awardees were the restoration crew of the paddle steamer Maid of the Loch (Balloch, West Dunbartonshire), a ship which has relied on volunteer support since it was saved from sinking back in 1996.
The second award went to a group which had achieved several key milestones in their conservation journey over the last two years despite challenging times – the volunteers of SS Freshspring (Bideford, Devon).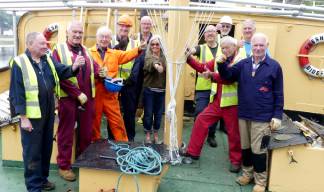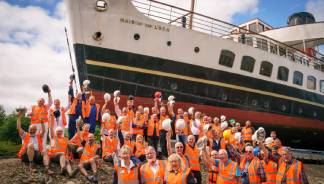 The Shipshape Network Volunteer Award was given to the volunteers of MV Balmoral (Bristol) who 'have worked tirelessly to maintain the ship' on public display in Bristol's floating harbour – with particular commendation to the outreach undertaken by the educational team.
A Lifetime Achievement Award went to Barry Ford from the HMS Medusa Support Group.
The Marsh Volunteer Awards, which began in 2011, are supported by the Marsh Charitable Trust founded in 1981 by current chairman Brian Marsh. The Shipshape Network was set up in 2010 as a means of regenerating traditional skills. Today, the Network focus is on the supporting infrastructure for historic vessels, connecting all those with an interest in ship conservation across the sector. It is divided into eight key regional zones and promotes over 100 external maritime projects.
---
Tags