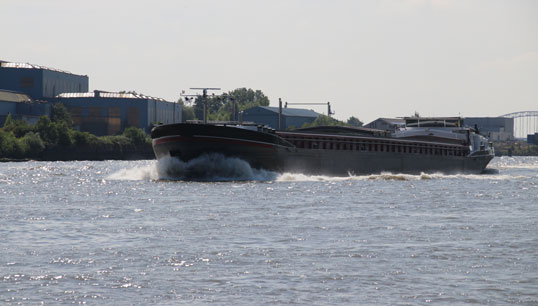 Swiss Social Democrat politician and historian Eva Herzog has secured top level government support for more investment in the country's inland navigation infrastructure, which promotes the Rhine as an ecologically sustainable transport industry.
The Member of the Bundesrat (the Swiss equivalent of the UK House of Lords) raised a successful motion to the Swiss Federal Council which is set to now create a 'proof of concept' which will encompass the promotion of commercial goods transport and investment.
The motion came on the back of a planned multi-million Euros investment in inland waterway transport throughout the Rhine by Germany.
The Federal Council is the seven-member executive council that constitutes the federal government of the Swiss Confederation and serves as the collective head of state and government of Switzerland.
Nautilus national organiser in Switzerland Holger Schatz said: 'The Swiss government has long been called upon to invest far more than the planned construction of a new gateway port 'Basin 3' in Basel. The motion by Ms Herzog, a member of the Basel Council of States, is set to get things moving now.'
Within the agreed proof of concept framework, the Federal Council will propose measures to ensure that Rhine navigation can continue to play its important role in transport policy in the face of the challenges of climate change, not least to secure Switzerland's national supply,' Mr Schatz said.
The plan also says incentives should also be provided for the use of climate-neutral propulsion.
Ms Herzog, who is generally regarded as a supporter of shipping, expressed her relief at the positive signals from the federal government: 'We have seen in recent years during dry periods that the low water level has caused difficulties for transport. Many people share the opinion that shipping is an important and ecological means of transport that we should continue to promote.
'Now the coronavirus crisis has added an additional argument for this means of transport by ensuring that the country's supplies are also available on the water in these times. We have seen that shipping is an important means of transport even in times of general border closures.'
---
Tags