Nautilus news
Red Ensign flies at Nautilus Mariners' Park to honour seafarers for Merchant Navy Day
2 September 2022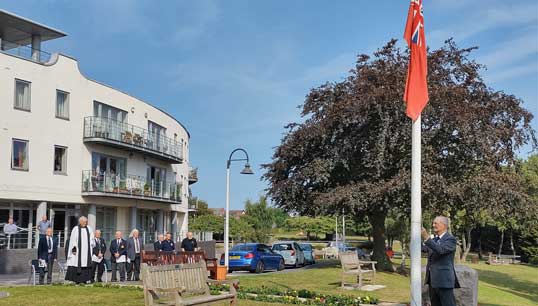 Retired seafarers and Nautilus staff raised the red ensign at Mariners' Park ahead of the seventh annual UK Merchant Navy Day commemorations planned around 3 September.
The event was held at the Atlantic Memorial Stone in Mariners' Park Estate, Wallasey, in front of 34 residents and staff.
After the last post the Red Ensign was lowered by park resident and former mariner Captain Alex Harrison, before being raised for the reveille. The ceremony was followed by a minute's silence for seafarers who have given their lives for their country and a religious service was performed by the Reverend Alan Leach. During the ceremony a wreath was also laid by another park resident, Carol Broydon, and there was an epitaph reading by resident Captain Mike Feltham.
Rev Leach said: 'We belong to a Maritime Nation, and we thank God for the men and women of the Merchant Navy past, present and future and all whose service and sacrifice provide for and protect our survival as a nation.'
The director of welfare and care for the Nautilus Welfare Fund Andrew Jones said: 'It was fantastic to be a part of the service for Merchant Navy Day, an important day in the maritime calendar. This was my first since taking over as director of welfare and care for the Nautilus Welfare Fund and I'm pleased to see that the residents at Mariners' Park responded well to it.
'It is also great to see everyone remember the sacrifices of the Merchant Navy together once more, after the disruptions caused by coronavirus in recent years.'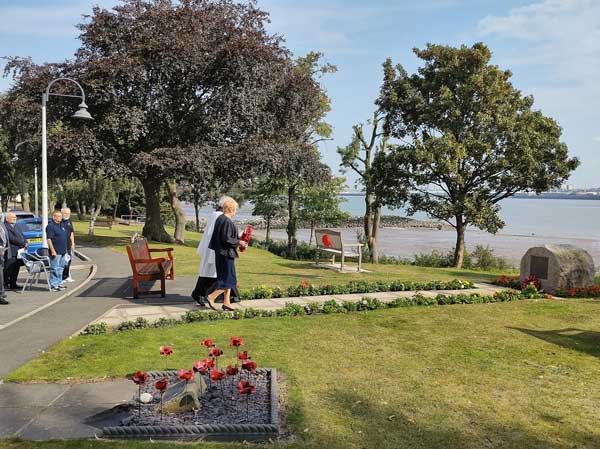 Nautilus International will be represented at the Merchant Navy Day service being held on Sunday 4 September at the Merchant Navy Memorial in Tower Hill, London, and was represented today at a service held at the Glasgow Cenotaph.
The Union will also feature Merchant Navy Day on its social media channels, alongside The Seafarers' Charity which is showcasing the scores of councils and other organisations committed to fly the flag on its social media channels. Everyone is welcome to get involved by flying a Red Ensign on Merchant Navy Day, whether organising a flag-hoisting ceremony at their workplace, in their community, or displaying a Red Ensign at the window at home or in the car.
Donations to the Merchant Navy Fund are also encouraged. This is a collaborative initiative with a grants programme set up by the Merchant Navy Welfare Board and The Seafarers' Charity to exclusively support Merchant Navy seafarers.
Nautilus members who are taking part and who would like to have their event featured in the next Telegraph are encouraged to let the Union know as soon as possible at telegraph@nautilusint.org. Please send best quality images and reports of your event by 9am on Monday 5 September.
---
Tags