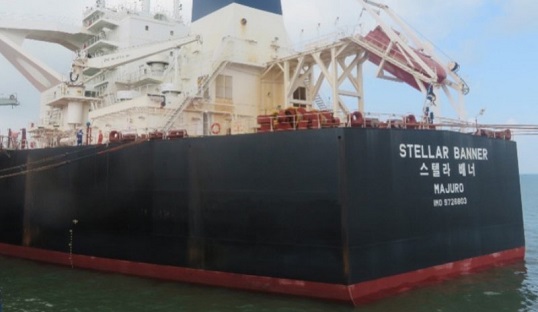 The Maritime Administrator for the Marshall Islands has released its report into the grounding of the VLOC Stellar Banner, concluding that the master's decision to deviate from the planned route contributed to the casualty alongside poor Bridge Resource Management (BRM) and the shipping company's unclear guidance.
On 24 February 2020, the Marshall-Islands registered vessel, managed by Polaris Shipping, contacted the bottom after departing from Brazil while laden with 294,871 MT of iron ore. The ship's hull was damaged, resulting in flooding.
The ship was anchored while crew assessed the damage and attempted to control the flooding using fixed and portable pumps. After several hours, it was determined that water was flooding the damaged voids and tanks faster than the fixed and portable pumps could pump it out. Based on this, the master moved the vessel to shallower water and intentionally grounded the ship on the morning of 25 February 2020.
On 12 June 2020, the Stellar Banner was scuttled with the remaining cargo onboard, approximately 55-60nm north east of the entrance to the Baía de São Marcos approach channel. All hazardous materials had been removed before the ship was scuttled.
The investigation concluded that the master's decision to deviate from the planned route during the outbound transit within one nautical mile of a 20m shoal based on limited hydrographic information had contributed to the casualty. They also found the company's navigation watchstanding procedures did not provide clear expectations and guidance regarding the use of BRM by members of the bridge team.
The report made the following recommendations to the company:
amend its navigational watchstanding procedures for all bridge team members to more clearly recognise and implement the use of BRM during all phases of navigation
revise its passage planning procedures to include guidance regarding when deviating from planned routes might be warranted for reasons other than collision avoidance, weather routing, etc.
The full report can be found here.
---
Tags