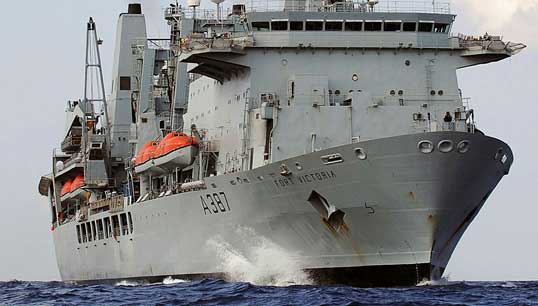 RFA Fort Victoria has returned to the UK after a 195-day deployment with the Royal Navy's Carrier Strike Group. The 33,675-tonne ship arrived at Defence Munitions (DM) Crombie in West Fife on 12 December.
Speaking of the Carrier Strike Group deployment, commanding officer Captain Chris Clarke said that RFA Fort Victoria had proven to be an indispensable part of the Carrier Strike Group.
'Over the seven-month deployment, we have steamed just under 40,000 miles, we've crossed the equator, had four port visits, transferred 27,000 tonnes of fuel and 350 tonnes of ammunition, food, spares and provisions while underway at sea. We have also undertaken 635 helicopter landings from our three embarked Merlin Mk4s of 845 Naval Air Squadron.'
While deployed, RFA Fort Victoria conducted 44 replenishments at sea with ships from six different nations. The vessel also conducted its first operational replenishment for the Queen Elizabeth class.
---
Tags