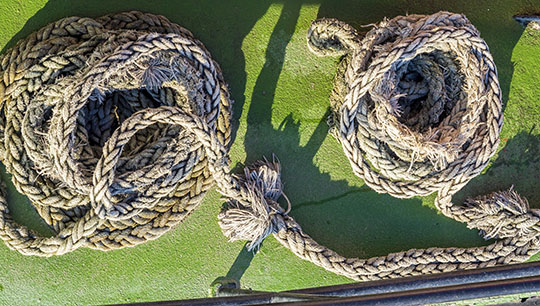 The challenges facing crew members in checking the safety of life-saving equipment have been highlighted once again following an accident in which three seafarers suffered serious injuries when a rescue boat fell 17m into the sea during a drill.
An investigation into the incident – which occurred onboard the Danish-flagged tanker Torm Maren in April 2020 – found that the wire lifting rope was severely corroded and its load capacity was significantly reduced, causing it to part as the rescue boat was being recovered from the sea.
The Danish Maritime Accident Investigation Board (DMAIB) found that the wire rope had been fitted to the tanker in October 2018. Records showed that the rescue boat system had been inspected, maintained or operated by various crew members on 45 separate occasions since then and the wire rope had undergone a monthly check only five days before the accident.
However, investigators said that crew members did not have the formal training or necessary expertise to make a proper assessment of the condition of the wire rope. What constituted serious corrosion depended on individual, selective, judgement, the report notes.
The ship's planned maintenance system (PMS) relied on the officers in charge of the inspection making subjective judgements about the wire rope's condition based on guidance offered by the manufacturer's manual – but there was no such guidance in the manual. The report also notes that PMS activities were compartmentalised, which meant that only one person was assessing each component.
Investigators found that the officers placed significant trust in the five-yearly and annual examinations of the entire rescue boat system by certified service providers and they did not envisage that the wire rope could deteriorate in between those checks.
The DMAIB said the company has taken a series of measures – including changes to its PMS and improved guidance on the inspection and assessment of wire ropes – to prevent similar accidents in future.
---
Tags