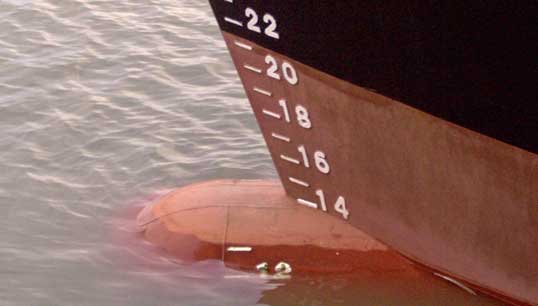 Nautilus has added its voice to industry concerns after two separate seafarer fatalities, which occurred while officers carried out draft marking on vessels.
Two Turkish officers lost their lives in February within a week of each other according to industry reports, both of them while trying to read draft marks.
The first fatality occurred at the Chinese port of Tianjin while a bulker chief officer carried out draft reading on the stern. He slipped and died after falling onto a concrete pier from a pilot ladder rigged-up on a rail, because China's stiff Covid-19 restrictions forbade him from going down the gangway onto the pier – the preferred method.
In the next incident, a second mate reportedly fell overboard and died of hypothermia during a storm, also while trying to determine draft marks after loading in port on the Russian Taman Peninsula in the Black Sea. Efforts by a shipmate and search and rescue to save him were unsuccessful.
The International Federation of Shipmasters' Associations (IFSMA) has called for China, in particular, to end its strict 'pointless and ill-thought-out' pandemic restrictions.
The issue was highlighted at a meeting of the International Maritime Organization (IMO)'s human element, training and watchkeeping (HTW) sub-committee, by IFSMA general secretary Jim Scorer.
Mr Scorer said IFSMAS passed its on condolences to family, friends and shipmates of chief officer Selçuk Elibol.
'He died on duty whilst conducting an evolution which, in normal times, this extremely well thought of, intelligent, highly qualified and highly trained officer would not have considered doing. He must have been under enormous pressure, because instead of just walking down the gangway and along the nearly deserted pier to read the draft marks on the stern of his ship, he rigged a pilot ladder from the rail and climbed over the side to read the marks.
'He slipped in the process and fell 30 feet onto the concrete pier. Why would he do that? Very simply, because China's stiff Covid-19 quarantine regulations forbid it and he had been denied permission. He therefore was forced into doing something that was inherently unsafe,' said Mr Scorer.
'IFSMA call on China to end their pointless and ill-thought-out regulations that achieve nothing other than putting seafarers lives at increased risk by taking short cuts in fulfilling their duty as required by international regulations that are designed solely to make seafarers lives safer.'
The circumstances leading up to the second accident in Russia, were unclear.
By requesting for his statement to be added to the report Mr Scorer opened the door for further discussion during IMO MSC in May 2022.
Nautilus, as a member of IFSMA which has NGO status at IMO, will be monitoring the outcome.
---
Tags