Community
Seafarers Hospital Society reveals findings of Yale study at 200th anniversary celebration
29 November 2021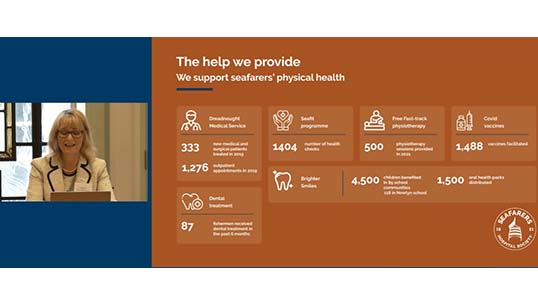 The Seafarers Hospital Society (SHS) has celebrated its 200th anniversary at a seminar that both looked back to the organisation's illustrious past, and also asked how maritime charities and industry can best support seafarers in the future.
During the event, titled Supporting Seafarers into the Future, Dr Martin Slade of Yale University revealed the results of a landmark study he conducted with SHS and support from the Lloyd's Register Foundation, to determine the effectiveness of initiatives taken by shipping companies, charities, and the wider maritime sector to keep seafarers healthy and safe.
This six-month study was aimed at reviewing existing research and recommendations, identifying current practices, and determining their perceived effectiveness so that efforts to improve the health and wellbeing of seafarers can be more targeted in future.
Culture of care needed
Dr Slade identified stressors on seafarers, wellbeing issues and harmful lifestyle choices as reported in more than 100 studies. He then looked at recommendations for mitigating these issues.
The study found that while there are many published recommendations for improving the wellbeing of seafarers, few have been put into practice. The largest barrier appears to be short term cost.
Recommendations of the study include that the industry should embrace a holistic 'culture of care', and that stakeholders need to work in partnership both in terms of research and initiatives to improve wellbeing.
Speaking of his conclusions, Dr Slade said: 'It's clear there needs to be a culture of care – not just that I [as a shipping company] care about my crew and customers, but that I care about my environment and what I'm doing. You're part of an ecosystem of which crew is an important part. So, you have to think of them as people and not resources.
'There needs to be a culture of care that embraces everything from what seafarers eat to can they contact their families – or can they even get off the ship.'
Although he noted many issues will require concerted industry action, he said that there are a number of 'quick wins' available to improve health and wellbeing – for example, by providing proper training in nutrition to cooks onboard.
Other speakers at the seminar discussed the SeaFit Programme to improve the health and wellbeing of the fishing community and discussed the history of the charity from its beginnings to the present day.
Dreadnought future
They also talked about the future of the Dreadnought Unit at Guy's and St Thomas' Hospital, a continuation of a tradition of special hospital care that takes the needs of seafarers into account that dates back to 1821. It still provides priority care for seafarers, fishers and their dependants. Delegates informed the seminar that specialist funding has disappeared for the unit, meaning that it must continually bid for funding from the Primary Care Trust, meaning that it may have to prioritise what specific in-hospital treatment is particularly needed for active seafarers in order to maintain the service.
---
Tags